Amazon, Deliveroo, and rapid delivery players are among those competing for a shrinking pool of warehouse space as the need for speed ramps up
Speed is well and truly the new battleground in food and drink. Amazon is partly to blame – it was, after all, offering same-day delivery before supermarket CEOs were even on wi-fi. Deliveroo's recent leap into grocery has also played a role. And let's not forget rapid delivery, which is managing to normalise shopping bags on doorsteps within minutes.
For impatient consumers, it's great news. For the property market, it's a little more complicated. The collective demand for last-mile fulfilment space – sites that are just a short journey from prospective customers – is having a major impact on the cost, availability, and viability of commercial warehouse space in the UK's major cities. And the issue is only escalating.
A 2021 report by real estate consultant Knight Frank found an additional 12 million sq ft of logistics space could be required by 2025 as e-commerce spend grows, accompanied by a greater need for speed.
Online sales are anticipated to top £152bn by 2026, an increase of £31bn on today's levels, says the report's author, associate Claire Williams. She predicts "this could drive further requirements of around 10 million sq ft of last-mile fulfilment space over the next five years."
Yet prime industrial space is fast disappearing. Research by agent Cushman & Wakefield in October forecast that available warehouse space in the UK could run out within a year thanks to a combination of supply chain disruption forcing retailers to move inventory closer to the point of sale, and the relentless demand for last-mile fulfilment hubs.
So, where does it leave the prospects for last-mile space in grocery? How can the property landscape evolve? And for those now grappling with the tenancy of a London railway arch (yes, really) what creative solutions are left to satisfy their need for speed?
Record demand
"I've been doing this for 37 years and never seen anything like it," says Len Rosso, head of industrial and logistics at Colliers, who has witnessed record levels of demand for commercial space in the UK's capital. "There is huge demand for anything of good quality within the London boroughs right now. It is insatiable."
Grocery isn't the only driver, of course. "Demand is highly diversified and fragmented," says Andrew Smith, strategy director at LondonMetric. Space is also being snapped up by parcel carriers such as DHL, restaurant chains looking to serve at-home diners via a network of dark kitchens, and pure online operators in retail sectors like fashion, homeware, and cosmetics.
Looking across all industries, it's pureplay operators that occupy the biggest share of take-up, according to Colliers – responsible for 43% of occupancy in 2021 versus 33% in 2020, while the presence of general retail declined from 18% to 11%.
Amazon alone represents 28% of the UK's total industrial market. As some forecast it will overtake Tesco as the UK's biggest retailer by 2025, this figure is only likely to go higher. Meanwhile, online fashion retailers like JD.com, Boohoo and Buy it Direct occupy around 14% of space.
"I've been doing this for 37 years and never seen anything like it "
Regardless, there's little doubt it's the grocery players who are increasingly vying for the best spots in major cities. Not least the host of rapid delivery businesses that burst on to the scene less than two years ago and have already built a sector worth £1.4bn in the UK, according to IGD.
Given their commitment to making deliveries in 30, 15, or even 10 minutes, their business model largely relies on an extensive network of micro fulfilment centres within short reach of densely populated areas. This has seen them snap up a variety of smaller commercial units in the past 18 months.
"A mass adoption of e-commerce has led to fierce competition for acquiring space and getting the best locations for ultra-fast deliveries is becoming more complex," says Lluis Uriach, q-commerce chief of staff at rapid delivery platform Glovo.
"Glovo has years of experience in this space – with our first dark store opening in Madrid in 2018 – and thanks to trial and learning we have developed the knowhow needed to choose the best locations to succeed.
"But we have seen an influx of new competitors offering super-fast grocery delivery, notably over the past two years. These new startups may face real scarcity for real estate in key cities and lack the hyper-local knowledge to identify the best locations."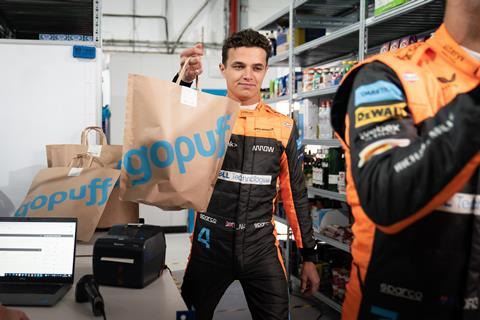 Still, the new arrivals are managing to expand fast. The UK is predicted to have 1,500 grocery dark stores by 2030, according to Interact Analysis, up from approximately 200 at the moment.
In February last year, Getir, which delivers within 10 minutes, announced it would increase its number of London fulfilment centres from five to 20 and expand into zones 3 and 4. Rival Gorillas occupies around 35 micro-fulfilment centres across UK cities already, while 'go-to platform for everyday needs' Gopuff will no doubt be part of the scuffle for space as it expands across the UK following a $1bn injection last July.
In doing so, they'll all be fighting for extremely similar features in their commercial units. "The new q-commerce firms are typically looking for small spaces within highly urban locations from which to operate dark stores," says Williams. "Their business model relies upon offering rapid deliveries within 10-15 minutes so location is critical. They need to be within close proximity of their consumer base to offer this."
That's in contrast to supermarkets, which typically operate van fleets rather than bikes or scooters, incorporating several steps on each route and thereby making it possible to opt for larger, less centralised units.
"We've got clients offering £9m per acre. Everyone is saying: is this sustainable?"
The sheer level of activity has pushed up prime rents "dramatically" in the capital, adds Williams. "For units under 20,000 sq ft, we have recorded growth of 52% over the course of 2021 in west London and 38% in east London," she points out.
Rosso points to the ferocity of the competition. "In west London we were involved in a site disposal where it was £7m per acre, and we've now got clients offering us £9m a mile up the road," he says. "That's within a month. Everyone is saying: is this sustainable?"
For some operators, the answer will be no. Even those with more cash at their disposal will have to think carefully about expansion, says Neil Dryer, real estate partner at law firm Russell-Cooke. "Last-mile logistics is notoriously expensive in terms of the cost of warehousing in inner-urban areas and maintaining the fulfilment and delivery infrastructure.
"The recent surge in occupier demand for inner-urban space has naturally pushed up rents even further, exacerbating these cost restraints," he adds. "Plus, with the rise of free delivery becoming a standard option for home deliveries, consumers are becoming less willing to pay additional fees for just-in-time deliveries. The increased costs are therefore being shouldered by the retailer."
So if players want to sustain their expansion, they will likely have to employ an increasingly creative approach to commercial space – and how to use it. Already retailers seeking out urban logistics space "are exploring quirkier solutions for last-mile delivery, such as old retail units that may have good access for commercial vehicles, car parks that can be converted into warehousing or logistics accommodation, and even office buildings with a ground floor basement for storing supplies," says Rosso. "That's all being looked at."
Even railway arches have become coveted spaces, with reported rent rises in the past year of around 50% in some cases, and traditional independent traders facing eviction as a result.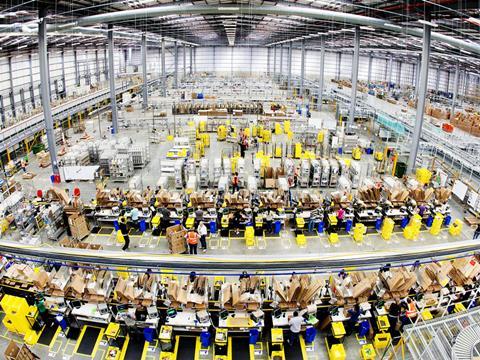 Conversions
Landlords too have begun to recognise how non-traditional units in their portfolio can be adapted. As such, a growing number of houses, offices and retail units are being converted into commercial logistics hubs.
In May 2021, British Land announced it would shift its own strategy away from its traditional portfolio of shopping centres and office buildings and towards urban logistics. Already its urban logistics pipeline is worth a reported £1bn, with £189m in land recently acquired to cater to this demand for urban last-mile fulfilment. It has plans to convert both empty retail centres and central car parks (an underground Finsbury car park was bought for £20m). LondonMetric too has also "further refined its portfolio into urban logistics, which now accounts for 50% of the portfolio", says Smith.
There's also the potential to make dual use of existing retail space. That's illustrated by the ongoing trial between Tesco and Gorillas announced last year, which has seen the rapid delivery app set up micro-fulfilment centres at five large Tesco stores. It's seemingly a win-win: Tesco is able to offer its products in 10 minutes, while Gorillas reduces the cost of renting prime space. Just a month later, Asda announced a similar partnership with Just Eat to add a selection of 1,000 of the grocer's products fulfilled from five stores.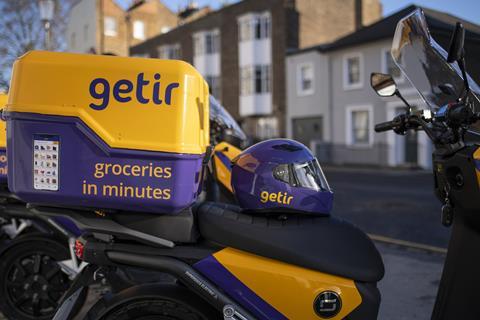 It shows how traditional grocers can use the potential of their existing store networks to optimise their own delivery offers. But equally, it shows rapid delivery operators are willing to think differently to make costs add up. They may be similarly creative with their standalone sites if they are to justify increasingly exorbitant rents, says Gaston Tourn, chief marketing officer at Appear Here, which links companies seeking out space with landlords. "These rapid delivery apps are smart enough to know it's a wasted opportunity for them to use premium spaces purely for fulfilment and logistics," he says. "What brands will realise is it doesn't work economically."
Tourn therefore expects rapid delivery firms to start using their expensive locations as marketing tools. Traditional retailers typically put only 8% of costs into marketing, he points out, as their physical retail presence does a job in showcasing their brand.
E-commerce brands with premium locations are now waking up to that opportunity, he suggests. Already Tourn says Gopuff has leased spaces at Boxpark in Shoreditch for exactly this reason, serving coffee while encouraging passers-by to download their app. While in this case Gopuff leased the space specifically for marketing purposes, Tourn believes businesses will increasingly leverage their existing prime fulfilment sites for the same reason.
It's just one of the more innovative ways businesses will have to learn to extract extra value from their extortionate urban spaces. Fail to do so, and they could leave their impatient customers tapping their foot on the doorstep.
How rapid delivery has led a space race in the UK's cities
1

Currently reading

How rapid delivery has led a space race in the UK's cities

2