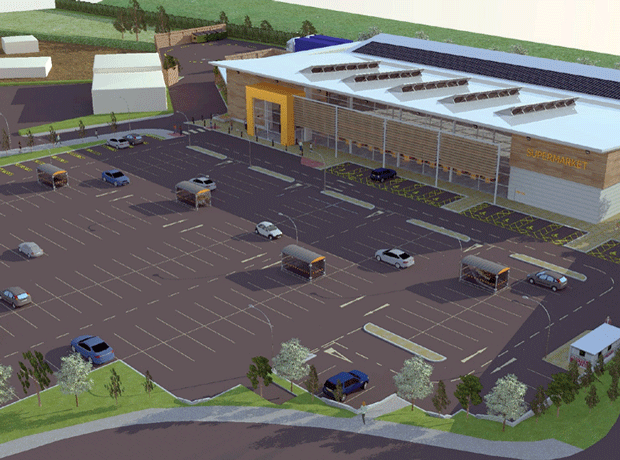 The Local Data Company has claimed "the great space race is over" as big four store numbers fell last year amidst rising inflation and Brexit uncertainty.
The annual report, which covers supermarkets, convenience stores and discounters, showed slowing store estate growth in all three sectors in 2016.
The slowdown last year was most marked amongst the big four supermarkets, which had added 223 units since 2012 but the number of stores fell by a net figure of eight in 2016. This decline in the number of supermarkets amongst the mults was the first fall since LDC records began in 2008.
The store growth of the discounters is continuing to outstrip the rest of the market. However, the 162 net additions last year represented a significant slowing of the five year trend, where 1,225 discount stores were opened to average 251 per year.
Convenience operators continue to open new stores, but expansion has been slowing strongly since 2013. The annual rate of expansion in the sector in 2013 was 7.1% but this had slowed to 2.8% in 2015 and down again to 1.2% last year.
LDC said "the great space race is over, for now" as consumer spending is being challenged by rising inflation and Brexit uncertainty. "The pressures causing this slowdown are expected to increase."
The reported added: "Growing alternative formats such as garage forecourt stores and online sales promise to continue to ramp up the pressure on store numbers across GB as a whole."
Clive Black, head of research at Shore Capital Markets commented: "The era of large store openings and extensions has come to an end and future LDC five year reports can be expected to more dramatically characterise this process.
"However, the key message of the report, that the great space race is over, comes across loud & clear. Additionally though, we also see that the growth rates for convenience and discounters are decelerating too, partly reflecting the larger base of such outlets but also some channel maturity."
He added that the convenience sector may have "reached its zenith" within LDC's 2012-2016 five year time-period.
Matthew Hopkinson, director at the Local Data Company added: "Big box food retailing is under the greatest pressure since supermarkets first came into being. This is resulting in a change or close (die) culture. This market, alongside food and beverage, has the most intense levels of competition as well as change in consumer habits so is one that will see ongoing and significant change in 2017."
"Looking even further ahead, any reversal of net EU migration due to Brexit could take a bite out of the £154bn UK food market - and that really could add to the basket of challenges to the industry."
The slowing store opening growth of the discounters in 2016 mirrors grocery market share data towards the end of last year. Kantar Worldpanel suggested Lidl's 12-week sales growth fell as low as 5% over Christmas 2016, while Aldi's sales growth was as low as 10% over the same period as sales growth from new stores lessened.
However, in the new inflationary environment in 2017 discounter growth returned to its highest level since 2015 last month and both Aldi and Lidl have made more bullish noises about store openings in recent times.
Aldi UK CEO Matthew Barnes told The Grocer last month Aldi could eventually have a store for every 25,000 to 30,000 people – the equivalent of around 2,600 stores from its current level of 700.
He also said its target of 1,000 UK stores within the next five years, could be closer to 1,300 by 2022.
Meanwhile, Lidl has kept its target of opening 1,500 UK stores – up from around 640 currently – and in December announced plans to plans to open 250 new stores in London as part of £1.5bn investment in the UK over the next three years.