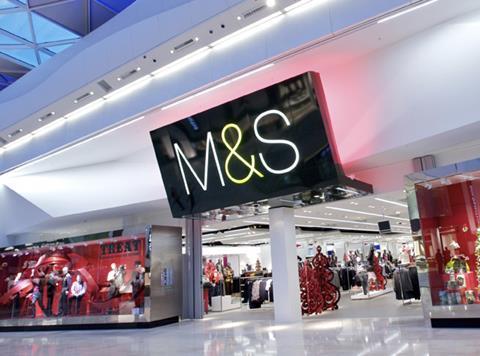 M&S, Iceland and Boots are among retailers that will be asked to share online profits through store rent payments under plans by a major landlord.
Benson Elliot, a private equity investment fund that owns a number of shopping centres across the UK and Europe, is planning to implement the new lease model, which also factors in footfall and store sales.
Developed by data analysts CACI, the model involves lower fixed rent payments but with an added 'top-up'. An increase in sales, either through the till or online within the store's catchment area, sees the top-up rise, while a drop in shopping centre footfall would see it reduce.
CACI is already provided with the necessary footfall and sales data by a number of retailers and landlords. Under the model, the two parties do not see each other's numbers, only any resulting change in the top-up calculated from them by CACI.
With M&S, CACI could calculate the store's "online halo effect" by looking at sales on Ocado, said Chris Lidington, managing consultant at the data firm. It would mean looking at Ocado sales "within the store's catchment area versus areas of the UK that don't have access to an M&S food store, so we can see how the spend-per-head differs", he said.
Benson Elliot's adoption of CACI's model would be its biggest breakthrough so far. It follows news last month of Hammerson considering elements of it for Aberdeen's Union Square.
Benson Elliot's assets include Preston's Fishergate Centre, Wolverhampton's Mander Centre, Quedam Shopping Centre in Yeovil, Vicarage Field in Barking and The Meadows Shopping Centre in Chelmsford.
It's understood retailers have yet to be approached about the model, but M&S, Iceland and Boots are among tenants at the site where Benson Elliot plans to implement it.
"Developing accurate methods to measure the wider store contribution is becoming more important as the purpose of stores evolves," said Benson Elliot director of retail Jonathan Ratnage.
"CACI's new leasing performance model creates a good opportunity to bridge that gap. Allowing the physical and digital world to come together through a collaborative strategic partnership will be a vital part of the development of our sector."
Iceland's online sales volumes have increased a claimed 400% in the past 12 months, largely through store pick, a factor that would also feed into CACI's model.
CACI claims the model will not involve tenants paying more overall, because the fixed rent will drop by around 30%, but it will provide a more sustainable way of valuing retail property in the wake of the pandemic.