Sainsbury's continues to struggle to shake off its historic image as a Southern-based retailer, but it's clear it's looking far beyond its London roots for future stores these days.
The latest data from construction specialist Glenigan shows that although the bulk of Sainsbury's applications and approvals remain in the London area, the retailer has greatly upped its activity in the North East, North West, Yorkshire and Humberside and the East of England over the past year.
In Yorkshire & Humberside, its number of applications has risen from five in the year to March 2013 to 16 in 2014. Similarly, in the North East, applications are up from two to 11, while in the North West, they have increased from 11 to 19 - with the same number of applications for the South East.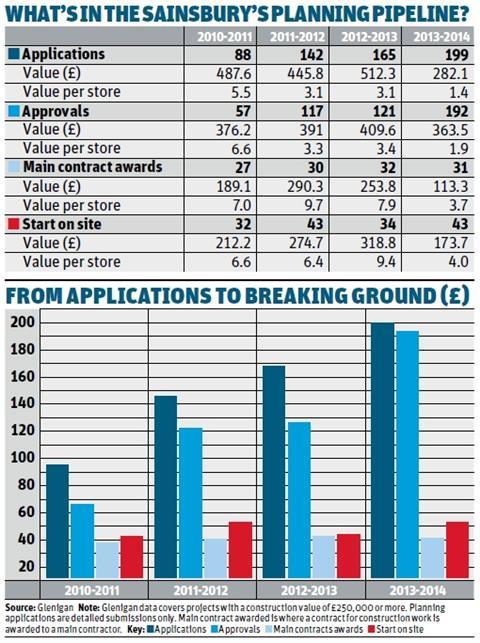 Sainsbury's has also markedly stepped up activity further down the pipeline. Its approvals in the North East have jumped from just one in 2013 to 11 in 2014. In the North West, they are up from eight to 15, and in Yorkshire and Humberside from six to 10. In Yorkshire & Humberside alone, Sainsbury's has started construction on five projects compared with none the year before.
Of Sainsbury's 199 total applications in 2013/14, 94 are not in London and the South East, and 23 of its 43 construction projects are outside of London.
The overall increase in the number of applications and approvals in 2013/14 is down to the fact that, like its rivals, Sainsbury's is looking to expand its c-store estate rather than build big-box stores.
In May, Sainsbury's said it was reducing the amount of new space it planned to open in 2014/15 from one million sq ft to 750,000 sq ft. It also said it had identified some sites where it no longer wanted to build.
Glenigan says this change in strategy has had a knock-on effect on construction spend. "Although there was a rise in the value of projects that started between 2010/11 and 2011/12, after this point there was a serious decline," says Glenigan economics director Allan Wilen.
One halted development was in Wadebridge. In May, Sainsbury's said: "We recently announced a small reduction in the number of new stores to be built and have with regret decided not to progress plans."
Wilen adds: "This was to be a 50,000 sq ft supermarket which, as a store type, is clearly not a priority for them."
Despite increased activity in the North, Sainsbury's retains a strong focus on London and the South East. In London specifically, Sainsbury's activity continues to be boosted by the ongoing expansion of Local. The retailer has been opening two c-stores a year for the past few years, and in May confirmed this rate would be maintained in 2014/15.
It currently has more than 650 c-stores - over 200 of which are in the capital - but is targeting many more. In February, it unveiled plans to open 60 c-stores in London and the South East in 2014/15, supported by a new London-based training centre.
According to Glenigan, Sainsbury's had 86 planning applications in London and 19 in the South East in 2013/14, up from 73 and 19 the year before. It also had 85 approvals in London and 19 in the South East, up from 51 and 17 in 2012/13. In addition, it started 11 construction projects in London and nine in the South East.
"Even though some projects have been shelved, London looks likely to continue to be a key part of the expansion strategy in 2014/15," says Wilen.