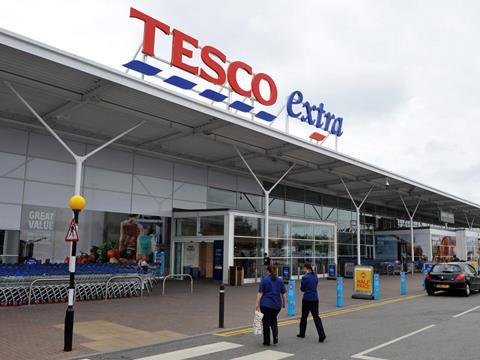 Tesco is converting the excess space in one of its hypermarkets into an online "dark store" operation, in what experts believe could be a template for many of its biggest stores.
The Grocer can reveal that under proposals submitted for its Dudley Extra in the West Midlands, Tesco wants to reduce its sales space by more than a third from 108,000 sq ft to 66,500ft, to pave the way for a major dotcom-only delivery centre to service the Dudley area, as well as a new click & collect centre.
The £27m Tesco Extra only opened in October 2011, offering extra services such as a Domino's Pizza outlet, beauty salon and a dedicated technology zone selling TVs and iPads, but like other Tesco stores has been caught in the storm of the shift towards online and convenience shopping.

As well as the reduction in the sales space, the retailer is also planning to slash 250 parking spaces at the store as it switches the emphasis to its online grocery operations.

The application comes almost exactly a year after a report by Goldman Sachs predicted that supermarkets would have to cut 20% of store capacity to regain profitable growth, describing "capacity exit" as the "only viable solution" for retailers reeling from the rise of the discounters and the exodus to online.
Tesco has struggled to attract extra customers, despite ventures such as its Harris+Hoole coffee shops and Giraffe restaurants, and the move suggests CEO Dave Lewis may depart from predecessor Philip Clarke's intention to turn Tesco's largest stores into "destination locations".
Lewis recently described his largest stores as an "opportunity not a liability" but this week new figures revealed by the Bridgethorne Shopper Index exclusively for The Grocer suggest that a shift away from them is accelerating, with out-of-town shopping centres bearing the brunt of the move to online and convenience top-up shopping.
The index shows a -4.6% shift from those saying they intended to shop less at high street supermarkets and an even bigger -5.5% shift from out-of-town, compared with a 21.7% increase in those saying they intended to purchase more in online channels and a 6.1% increase for those saying they planned to up their use of convenience stores.
"An increased frequency in both smaller shops and larger monthly shops could squeeze out the middle ground of the large weekly shop," said Bridgethorne joint MD John Nevens.
"Such a shift in shopping behaviour outlines the importance for both brand owners and retailers to better understand these different, changing shopping missions and the channels by which they will be most effectively served."
Dr Clive Black, head of research at Shore Capital, said he believed the move could be the first of many in large metropolitan areas outside London.
"We expect Tesco to use a whole plethora of mechanisms to address this issue of capacity, particularly in its hypermarkets.
"We've already seen some third parties start to come in and this may be in leisure as well as retail, but I'm not surprised that we are seeing a move towards dark stores.
"I was at the opening of the Dudley store with Philip Clarke and it's an absolutely massive store. With the material impact of online shopping on non-food sales, it makes sense for them to reduce the floorspace."
Black said the move could also reduce disruption to large stores from online delivery operations. However, he said reductions in floorspace would also pose further challenges for Tesco as it tries to build sales volumes.
A Tesco spokeswoman refused to comment on whether Tesco had similar reductions in sales space planned for its other large stores.
"We have submitted a planning application to improve our dotcom facility at our existing Dudley Extra store," she said.
"The improved facility will offer better service and availability for customers who shop with us online in the local area. We're excited about its potential benefits for our customers and colleagues."