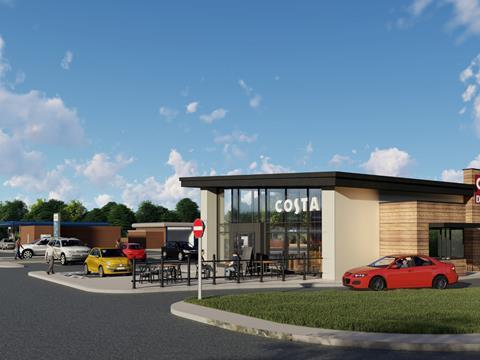 Tesco is lining up a deal with property company Supermarket Income REIT which will see excess space in its car parks developed as coffee chains, fast food restaurants and leisure facilities such as gyms.

The supermarket giant has been in talks with Supermarket REIT to introduce companies including Burger King and Coca-Cola's newly acquired Costa Coffee, in place of hundreds of car parking spaces, to bring in more income.


If the scheme is successful, The Grocer understands Tesco is looking to roll out the partnership with fast food and leisure giants to other large sites.
Supermarket REIT owns four Tesco stores and plans to snap up more of them having splashed out more than £260m buying supermarket assets in its first year.
Today it revealed it was in advanced negotiations with potential tenants over the first 23,000 sq ft of Tesco car park space to be redeveloped, at the first two sites in Bristol and Thetford, in which the new restaurants and leisure facilities are set to open as early as 2020.
Other companies lined up to move in include low-cost gym operator The Gym Group, car repair company Formula One Autocentres and day care nursery firm, Happy Days.
Supermarket REIT has also lined up plans with Tesco to develop decarbonised electricity generating plants on the sites, using solar energy and green gas, which will be used to power the stores and take them off the grid.
The investment company, which has bagged more than £260m of supermarket assets since it launched last year, said the long-term nature of its investments meant it was able to invest in the sort of property partner deals which could turn Tesco stores into "destination locations".
"The deal involved profit sharing with Tesco but we will be providing the capex," said Steve Windsor, director of Supermarket Income REIT's investment adviser, Atrato Capital.
"Tesco is obviously very strict about who it would be happy to work with.
"It's looking at this as something of a trial and if it goes well it's looking to roll it out across sites where it owns the freehold to stores."
Windsor said typically around 150 car parking spaces would be redeveloped to make way for the new facilities.
"There are too many car parking spaces and it is an opportunity for us and for Tesco to sweat its assets more.
"Because of the situation facing general retailers at the moment we have not included any of them at this stage, instead we have looked at companies such as leisure and quick-service restaurants.
"In the future we hope we can look for a phase two which could bring in other types of retailers to the sites we own."
Windsor said sustainable energy was a "huge corporate priority" for the likes of Tesco and said by developing facilities, including solar power on the roof of its sites, it planned to slash its carbon footprint by 80% and provide a cost saving of 20% on energy.
"Again, because of the long-term nature of our return on investment we are able to put in the capex for these developments, so it's a win-win for Tesco."
News of its property expansion plans came as Supermarket REIT revealed its first full year results, from 1 June 2017 to 30 June 2018.
As well as an IPO in July 2017 which raised £100m, it has raised a further £85m from investor fundraising and said it had hit its targets for shareholder returns in the first year. Four quarterly dividends declared for the period totalled 5.5 pence per ordinary share and total shareholder return for the period of 8%.