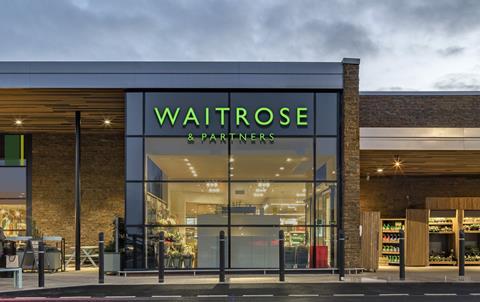 Waitrose is to sell its Wolverhampton branch to Tesco in its latest round of store closures.
The Wolverhampton supermarket is among four due to close by the end of the year because of "challenging" trade, putting a total of 124 roles on the line.
Its Caldicot, south east Wales store, as well as Little Waitrose branches in Shrewsbury, Shropshire and Ipswich Corn Exchange, Suffolk, will close their doors too. Affected employees are made up of 74 members of staff in Caldicot, 34 in Shrewsbury and 16 in Ipswich.
The 140 partners at its Wolverhampton branch will undergo a of Transfer of Undertakings Protection of Employment (TUPE) to Tesco, while the remaining 124 are at risk of redundancy. They will now enter a consultation period with Waitrose.
This process will see the retailer look to transfer staff to local Waitrose shops or into roles for John Lewis and Waitrose's dotcom businesses.
The Wolverhampton store will close at end of trade on 31 December, while the other shops will cease trading on 6 December.
The John Lewis Partnership's executive director, customer service, Bérangère Michel, said its priority was the "wellbeing and future" of affected partners. She said the partnership would do "everything we can to support them and explore opportunities wherever possible for those who may wish to remain with the partnership".
Read more:
Those made redundant who have worked for the upmarket grocer for at least a year will receive its partnership redundancy pay, which equates to two weeks' pay for every year of service. This comes alongside statutory redundancy payments.
Partners with less than a year's service who are made redundant will get a tax-free payment equivalent to one week's contractual pay.
Waitrose is offering up to £3,000 from its Retraining Fund to employees at risk of redundancy through the cull. Those with at least two years' service can put the money towards a recognised qualification or course for up to two years.
All affected staff will also be given access to a three-month support programme to assist them with CV writing and interview skills.
To help mitigate the impact on the store's local communities, the John Lewis Partnership will donate over £200K from its Partnership Community Investment Fund to help support local communities affected by the closures. This fund, which launched in 2014, is designed to help projects that support young people facing barriers to education, employment or training, re-training and further education of local people, as well as projects that drive economic growth. These include social enterprises and charities.
It will release further details on how to apply will "in the coming weeks".
As its Ipswich Corn Exchange Little Waitrose is in the same area as another Waitrose supermarket and John Lewis store, however, the fund will only be available to applicants from the remaining three locations.
The John Lewis Partnership's ongoing review of its store estate has already seen it announce the closure of eight John Lewis stores a month ago, as well as seven Waitrose shops in July last year.
This comes ahead of the Partnership's half-year results tomorrow (17 September).
A Waitrose spokesman said: "The announcements form part of an ongoing review of the Waitrose store estate, which began in 2017. We have found trading challenging in these four shops and, despite the best efforts of partners, we have not been able to find a way to make them profitable in the long-term. Despite today's news, Waitrose shops remain very important to our customers and will also be some areas where we see opportunities to open new Waitrose shops."
Michel added: "Closing any of our shops is always a last resort and is not a reflection on the dedication of our partners in Caldicot, Ipswich Corn Exchange, Shrewsbury and Wolverhampton.."