Do you remember Woolworths? Of course you do. The old dear slipped into administration on 26 November 2008 - barely five years ago - with the last shutter rolling down on 6 January 2009.
It was not, of course, the last casualty of the economic downturn, which also claimed TJ Hughes, Peacocks, Comet and Blockbuster (among others). Yet what is most remarkable about the Woolworths implosion is not that it was the first, nor even that it was the biggest. It's the fact that having left 807 prime retail locations in towns up and down the UK vacant, all but six have been filled.
Indeed, it could be argued that its demise not only changed the shape of the nation's high street forever, but actually kickstarted its revival.
One thing is certain: the property strategies of the supermarket chains have changed drastically in the past five years as structural changes in consumer behaviour have become clear.
"The supermarkets have gone from a big space race to a little space race," says Steve Rodell, head of retail at property analysts Christie & Co. "They have seen the writing on the wall for the big stores. Consumer behaviour has changed to shopping little and often and the priorities for them, and for retailers, are now online, convenience and forecourts."
"Aldi has been on a significant growth spurt and it already has 34 projects planned for 2015. And Lidl are coming back."

Rob Davis, Glenigan content director
This race for smaller space is reflected in figures provided by construction analysts Glenigan. It tracks every construction and civil engineering project in the UK from pre-planning right through to completion on site. Since 2011 - Glenigan's figures don't track convenience before this date - the focus of the big four has switched to small stores (see table).
It's not before time. As Booker CEO Charles Wilson pointed out at the City Food Lecture last week, the big four have spent £12bn on capex over this period - with big store developments dwarfing investment in convenience outlets for the most part. Yet they've delivered a zero return - in fact their market share has diminished. So who has played the property game best during the recession? And who's best positioned to cash in now that the green shoots of the recovery have emerged?
The poundshops are not the only ones to benefit from distressed purchases. Indeed expansion, and the property strategies of Aldi and Lidl have been crucial to their success, claimed Sainsbury's CEO Justin King at the NFU conference earlier this week, saying: "The driving force of [discounter] growth is more stores in accessible locations" rather than their eye-catching prices.
Glenigan figures also show the discounters have a lot more stores in the pipeline.
"Aldi has 49 projects in 2014 that we are aware of," says Glenigan content director Rob Davis. "It has been on a significant growth spurt and it already has 34 projects in the pipeline for 2015. And Lidl are coming back. They only opened 10 stores in 2013, but that almost doubled to 19 in 2014 and we've got 19 set for 2015 already. They have definitely accelerated."
They are also relaxing their previously rigid stance over store sizes. Aldi opened a 7,000 sq ft store on the site of a former Peacocks in Kilburn in April 2013 for example. Buoyed by its success, it recently announced plans for four more. And though Glenigan says Tesco is opening the most new stores overall, with 73 projects planned for 2014, Davis points out that's only 24 more stores than Aldi - a disproportionate rate of growth considering Tesco's overall size and market share.
Furthermore, some of those 2014 projects may fall victim to further capex-slashing announced by Tesco this week, while some of the projects currently planned for 2015 certainly will. CEO Philip Clarke promised Tesco would focus on refurbishments rather than new stores and wind down from 1.5 million sq ft of new space in 2013/14 to 700,000 sq ft in 2014/15 (see p14). .
Tesco Express
Only capex on its c-store portfolio looks safe. Since Tesco catapulted itself into the convenience market with the £377m acquisition of 870 T&S Stores in 2002, its Express estate has increased by around 10% a year. Currently boasting 1,978 c-stores [Grocery Retail Structure 2013], it dominates the sector ("one on every street corner in London" jokes Rodell) - especially if you factor in sister fascia One Stop, which is currently exploring options to develop a franchisee model.
Perhaps the moment that crystallised the zeitgeist for smaller stores in post-recession UK was Sainsbury's return last August to the same store location in Croydon where it opened its first self-service operation in 1950. It now has more c-stores than supermarkets. It's not slowing down either - it's pledged to open two c-stores a week during 2013/14 and has opened 73 so far this year, taking it to 594. Its website even offers a finder's fee for anyone that recommends a suitable c-store sized site.
And although the Glenigan data shows Sainsbury's has 58 supermarkets compared with 13 c-stores planned for 2015, of the 49 supermarkets that Glenigan has floor plans for, they average just 4,700 sq ft, so they are smaller than even the new small-format Aldi stores.
Asda has also lowered its expectations further. Its £778m acquisition of 147 Netto stores were converted into Asda supermarkets in May 2011, adding about one million sq ft of smaller-format stores to its estate in one fell swoop. It also joined in the fight for 750 Iceland stores with Morrisons, although the subsequent £1.45bn management buyout left both frustrated. But while CEO Andy Clarke has promised to make small supermarkets its key focus, Asda has been trialling a 4,000 sq ft c-store in Sheffield and launched three forecourts with a grocery offer squeezed in last year.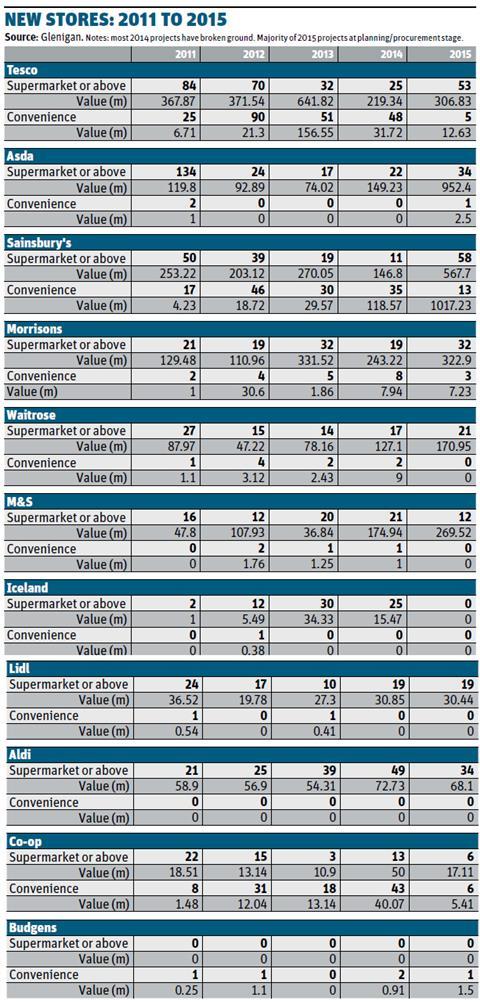 In the meantime, Morrisons has started to crank up its fledgling convenience operation. It bought 16 of the 47 Netto stores from Asda for £28m, adding 120,000 sq ft to its estate, and launched a new c-store fascia, M Local in July 2011. It hit the turbo button in February 2013, though, snapping up 49 Blockbuster stores, six HMVs and seven former Jessops and opened its 102nd M Local in February 2014, "a significant achievement" according to group property director Terry Hartwell, who also revealed plans to hit 200 M Local stores by the end of the 2014/15 financial year (many not reflected in the box, below, under c-stores as they are once again over the technical 3,000 sq ft limit).
Waitrose has also stepped up openings of the 4,000 sq ft Little Waitrose fascia it launched in January 2011. It now has 40 and recently announced plans for 10 more.
With everyone targeting sites of a similar size, competition is increasingly fierce. "Retailers use sophisticated analytics to identify an ideal spot on the map and if something comes up in that area there will be a feeding frenzy," says Rodell. "A pub conversion came up recently in a reasonably affluent town and bidding went through the roof."
Rodell says the South East is where everyone wants to be, "particularly inside the M25", even though space is even more restricted than normal. "They have all found it hard to produce the size of store they are used to, so, like Aldi, they have had to compromise on size, change up the range and be more inventive."
Indeed, Rodell believes the level of competition means the 'little' space race is even tighter than the 'big' one was.
"With the big space race, only four supermarkets could do large out-of-town retail," he says. "With the little space race, The Co-op, McColl's and Costcutter had the market to themselves. They have had their space muscled in on first by Tesco, then Sainsbury's and M&S, and now Waitrose, Aldi, Lidl, Morrisons, Iceland, Asda, One Stop and a raft of good-quality independents in the mix."
The strongest of all is still Tesco. "They target Co-op," adds Rodell. "They research which locations produce certain levels of trade, then find the nearest vacant unit to pinch their trade. And they have succeeded."
The future
Even for Tesco, however, it's no longer easy, says Rodell. "Although more small sites are available, there are more complexities involved. Can you get delivery vehicles in? How are footfall levels? Is there another site nearby that might gazump the one you have found at a later stage? It takes these guys ages to make a decision sometimes. And quite often they will go all the way down the line before someone from accounts or the guy in charge of deliveries puts the kibosh on it."
And with the discounters, pound stores and other retailers looking for similar ones the search isn't going to get any easier in the future.
"Whatever the vacancy rates, site finding remains challenging" agrees CBRE director Chris Keen, who acknowledges supermarket growth is "sluggish", despite the "surge" in planning applications.
Refurbishments are increasingly taking precedence over new builds, says Keen - typified by Tesco's announcement this week - and he believes that across the major mults the "backlog of first and second-generation supermarkets and superstores that require re-development is getting ever larger". And although he agrees supermarkets are opening c-stores "as quickly as they can", he says it's a "complex and painstaking business to create and sustain c-store chains."
Keen also believes that the ongoing site-finding challenge has led to another major change in post-recession retailing - the rise in online grocery shopping.
"The difficulties surrounding space expansion have resulted in the UK retail majors becoming global cheerleaders for online, despite the margin dilution issue," says Keen. "That might help to ease the space shortfall problem a little bit, but realistically, because of those margin-dilution problems, it is, at best, a very expensive sticking plaster for the space shortage problem."
And, irritatingly for the major mults, it's not a problem those rampant discounters have to worry about, either.