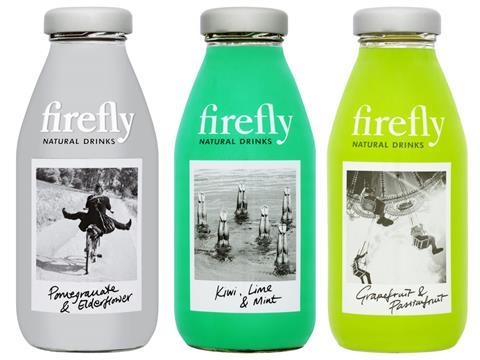 JuiceBurst owner Purity Soft Drinks has acquired premium juice drinks business Firefly Tonics.
Purity, which is backed by private equity investor Langholm Capital, said the deal would extend its portfolio into new categories and "a greater number of consumption occasions".
Firefly comprises original blends of fruit juices and botanicals that contain no artificial colours or flavourings. Available in glass and in PET bottles, the products are currently sold in more than 40 countries.
"We are delighted to be adding Firefly Tonics to the business," said Purity CEO David Bell. "Its innovative range of all-natural premium juice drinks is complimentary to the JuiceBurst brand portfolio and we look forward to sharing our vision for the Firefly brand and our exciting growth plans for the combined business."
JuiceBurst this month extended its line-up with 99-calorie-per-bottle JuiceBurst Skinny. The ambient products, which use natural sweetener stevia to reduce the added sugar content, are available in three flavours: peach & passionfruit, cherry & apple, and mango & lime (rsp: £1.29).