Aldi is aiming for luxury and indulgence with its Christmas 2018 range, while staying 'true to our philosophy to deliver uncompromising high quality at unbeatable prices'. Prices haven't been confirmed but there was no shortage of luxury at the event showcasing the range in London, with showstoppers including a hand crafted artisanal Belgian chocolate Carousel. Here's our pick:
Aldi has not yet set rsps for the Christmas range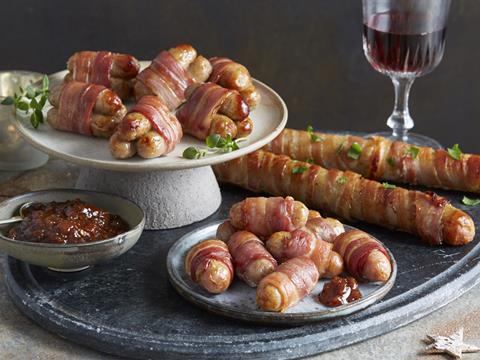 Three Little Pigs in Blankets
Aldi's customer research found three was the number of pigs in blankets most said they would eat. Hence these 'three little pigs wrapped in blankets'. If the portion seems meagre, there's also a foot-long 'giant pig in blanket'.

Tear and Share Bread Wreath with Camembert
Aldi brings extra flavour and style to baked Camembert with bread in this addition to its party range. The bread wreath is flavoured with sage, crispy fried onion and sweet dried cranberries.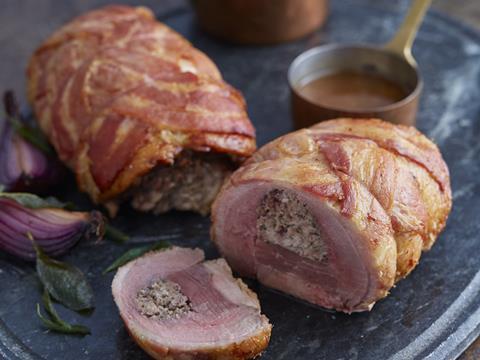 Three Game Roast
Aldi introduces a three-game roast for this festive season, consisting of duck, guinea fowl and goose with a sloe gin and cranberry glaze. It's a simplification of a five-bird roast offered in previous years, taking the view that less is more. Available with apple and apricot stuffing or sage and onion stuffing.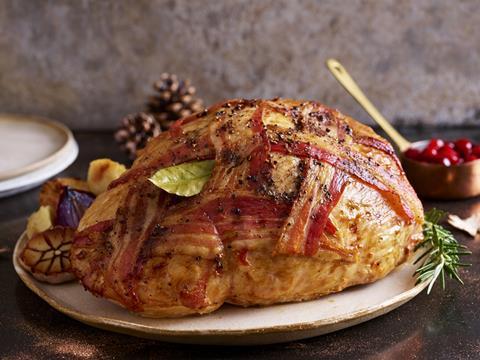 Free Range Stuffed Turkey Crown
For those who don't like touching raw meat, this free range bronze stuffed turkey crown comes in an oven-able bag so you can cook it without handling it.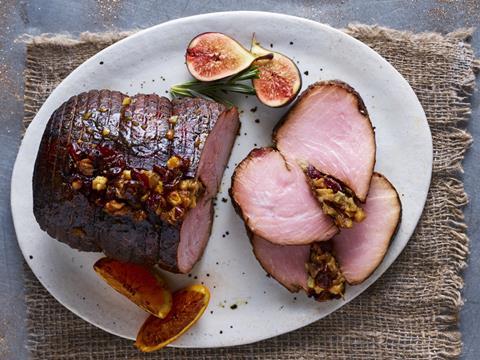 Ginger Beer Gammon
And for Boxing Day, a slow-cooked ginger beer gammon. Two sauces are available: spiced rum & honey or maple, orange & cracked black pepper.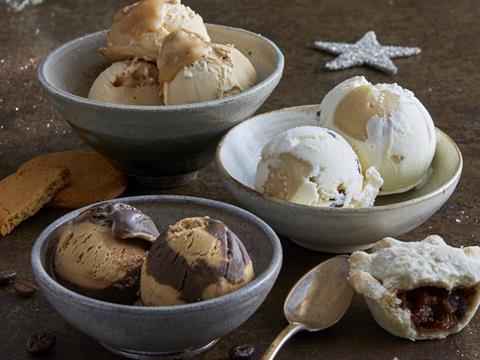 Boozy Ice Cream
After enjoying success with a range of alcoholic ice pops, Aldi has done the same for luxury ice cream in tubs. The 480ml boozy ice cream tubs come in espresso martini or mince pie and brandy butter flavours. There's also a non-alcoholic gingerbread latte flavour.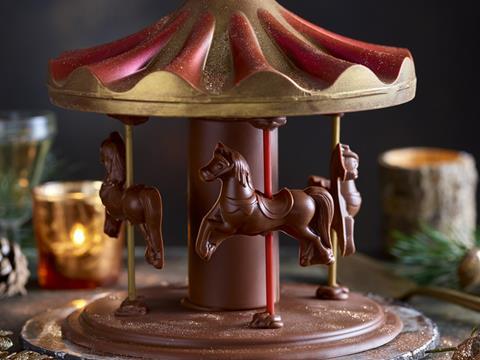 Chocolate Carousel
This 800g hand crafted and decorated chocolate carousel is produced by a London artisanal chocolatier. The Belgian milk chocolate creation is all edible except for the sticks supporting the horses.
Read more Christmas 2018 range previews