Showcasing a rustic 'Cotswold at Christmas' theme, Tesco has added a host of new products to its Christmas range for 2018 tapping into all manner of foodie trends, from low-alcohol booze to gluten-free Christmas cakes and vegan alternatives to the traditional turkey centrepiece. Here's our pick of some of the most innovative products to hit shelves this festive season.
Three Kings Sandwich
RSP: £3.50
A trio of festive rolls fit for a king – or at least a luxurious lunchbox. Each roll comes with a different filling, for starters posh prawns in a boozy cocktail sauce, then British butter-basted turkey with sweetcure bacon and finally a chocolate roll filled with smooth cream cheese and a port and cherry sauce.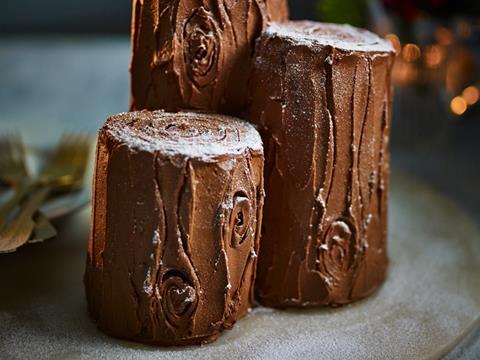 Free-from Chocolate Yule Log Cake Kit
RSP: £3.50
The retailer has gone all out catering for those with dietary restrictions in this year's range, offering a variety of cakes, cake kits and cupcakes to cater for those unable to eat dairy or gluten. This Yule Log cake kit is free of milk, wheat and gluten and can be made in two different ways, as a traditional style yule log or a tree stump centrepiece, says the retailer.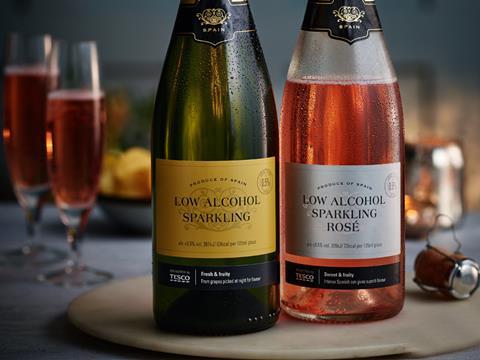 Tesco Low-Alcohol Sparking White
RSP: £3.75
For those designated drivers dreading the Christmas party Tesco has created its own low-alcohol (0.5%) sparking white for 2018 made with Spanish Sauvignon grapes. This "zesty" option has "ripe citrus flavours" and – once poured into a Champagne flute – holds its own against the real thing.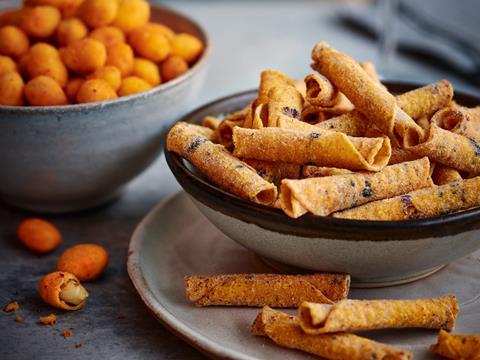 Salted Caramel and Cocoa Tortilla Curls
RSP: tbc
Adding something sweet to the crisp selection this Christmas these tortilla curls are made with cocoa nibs and topped with a salted caramel dusting.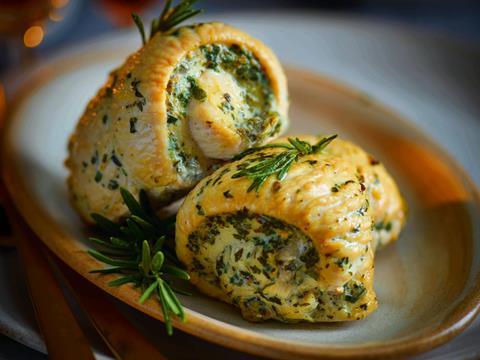 Steamed British Turkey Parcels
RSP: £6
To cater for smaller Christmas gatherings, Tesco has created these individual hand-tied parcels of British turkey breast, basted with turkey stock for extra succulence and marinated in parsley, sage and orange zest. Hand-prepared by experts and packed ready to steam in the tray.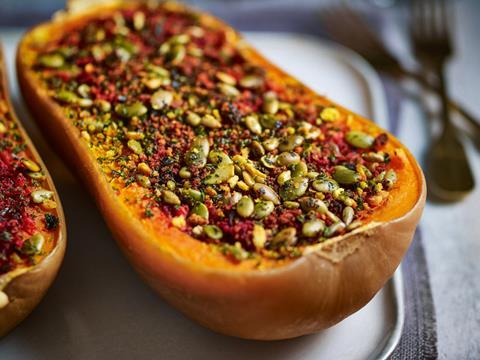 Vegan Stuffed Butternut Squash
RSP: £10
For the growing number of people following a meat-free diet, this sweet butternut squash stuffed with a tangy beetroot and apple filling makes a great centrepiece. Finished with a crunchy and colourful pumpkin and sunflower seed topping.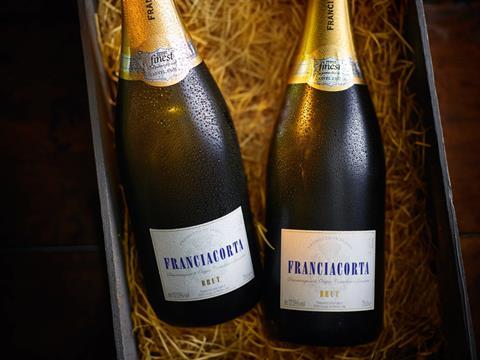 Tesco Finest Franciacorta
RSP: £15
A first for UK supermarkets, says Tesco, this Italian fizz is produced in exactly the same way as champagne, but comes without an extortionate price tag. It's a "lemony fresh fizz that will be welcomed at every Christmas feast", says Tesco.
Read more Christmas 2018 range previews