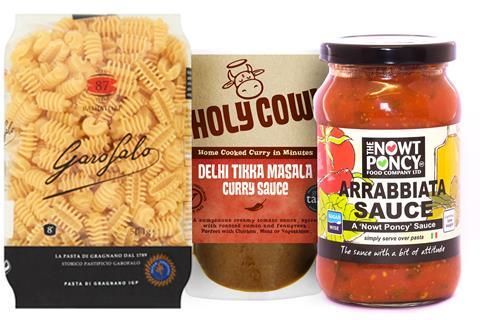 Booths has expanded its world foods range by 10% following a review of the category.

The upmarket grocer has shifted the selection's focus to artisan brands as well as what it calls unique and authentic lines. It has added 175 new SKUs to the category, all of which it said are "uncompromising on quality".

Booths has introduced Lebanese, Korean and Malaysian products, alongside expanding its existing world food ranges such as Japanese, Italian, Indian and Mexican.

Brands that form part of the larger world food selection include Mak Tok, which Booths added in response to Malaysian food being predicted as one of the hottest food trends of 2019. The brand, whose name is Malay for 'grandmother', was established when university student William Chew felt homesick and began making his own chilli pastes as dish bases.

"It's difficult to find authentic Malaysian flavours here in England so I thought, why not try and make my own?" he said. "I've always been really passionate about food and people loved my chilli paste, so why not turn it into a business?"

Booths is Mak Tok's first major listing.
Great Taste Award-winning Holy Cow is another addition. The curry sauce brand was created by Kiran Bhandari following her offering Indian home cooking classes, and each unit sold in the UK sponsors free school meals in India. Holy Cow has helped fund over 187,000 school meals in India.

Lancashire-based sauce brand Nowt Poncy was formed by entrepreneurs Julian and Karen Abel, who both have a love of simple good food. The sauces added to Booths' world foods selection are designed to be high quality and healthy with reduced salt, sugar and preservatives.

Julian Abel said: "We want to show the customers they don't need to spend loads of time cooking healthy meals - we like to capture the flavours of far-off places at home, but without nasty preservatives and with nutritious healthy ingredients. Booths is a great fit for our brand and it's an honour to be given the opportunity to show that low-sugar, low-fat products can taste absolutely amazing."

Booths buyer for international foods, condiments, free from, long life milk, oils & vinegars Haris Deane added: "Booths is renowned for supporting emerging brands and we're committed to sourcing the very best products on the market. We look for exceptional products made by people who truly care about quality, taste and flavour, and stock some great tasting, award-winning products many of which have a story to tell.

"Our new range incorporates everyday favourites from well-known brands to authentic handmade artisan foods, as well as ingredients used by top chefs from around the world. We're proud to work with our suppliers and are delighted to offer our customers the very best of what's available.''