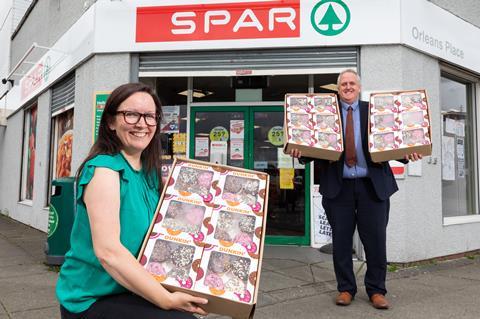 Scottish Spar wholesaler CJ Lang is to add Dunkin' donuts to its food-to-go offering.
The move will see 64 company-owned stores offer pre-packaged donuts under its new food-to-go banner 'CJ's – hot and tasty food-to-go'.
The wholesaler aims to roll out the range across the remaining company-owned stores by the summer of 2021.
"We are delighted to be working with another innovative international brand like Dunkin', adding to the stable of existing brands we work with and the multitude of Scottish-based suppliers," said CJ Lang head of food-to-go Stephen Brown.
"As sole distributer for Dunkin' donuts in Scotland at this time, we're really excited to be bringing this well-loved sweet treat to our customers.
"We have very ambitious plans to grow food-to-go within our Spar estate in Scotland. It is one of the fastest growing sectors of the eating-out market and as a forward-thinking convenience retailer we are making a huge investment to ensure we are at the forefront of this sector."
The wholesaler said the move was part of a wider focus on improving its food-to-go offer..
It has also seen CJ Lang launch its new lunch meal deal that offers sandwiches and salads from Greencore, plus soft drinks and snacks.
"As we continue Dunkin's strategic expansion across Europe, we're thrilled to offer our delicious donuts to consumers in Scotland," said Canar Gursoy, Dunkin' brands' regional VP for Europe, Middle East and Africa.
"We're excited to work with CJ Lang, one of the largest convenience retail groups in Scotland, to offer pre-packaged assortments of our premium donuts to their customers."
As part of the launch, CJ Lang donated more than 1,000 Dunkin' donuts to NHS Tayside that was split between Dudhope Young Person's Inpatient and Outpatient Units and Ninewells Hospital.
Tuesday 29 September 2020
The Convenience Awards goes DIGITAL. Join the very best retailers, brands, influencers and industry professionals to celebrate the convenience industry, as the winners of this year's Convenience Awards are revealed
Brought to you by