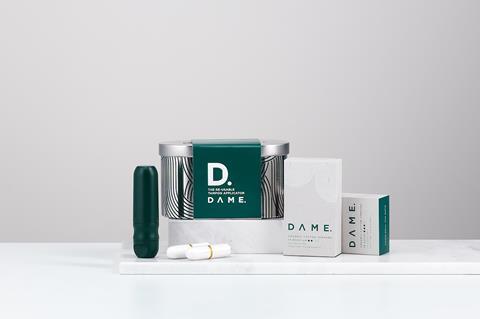 Sustainable feminine care brand Dame has ramped up its presence on the high street through a listing with Boots.
It is rolling out its reusable tampon applicator this week into stores nationwide – in a move "signifying that attitudes towards periods, and the need for sustainable period options, are changing for the better" said Dame.
The brand's debut in Boots, the UK's biggest health & beauty retailer by market share, comes after it landed in Waitrose at the start of the year.
Its "world first" reusable applicator, called D, uses only reused and recycled materials in its packaging. It is made of self-sterilising Mediprene plastic, and can be sent back to Dame if it is broken to be replaced and recycled.
Each D saves a woman 12,000 disposable applicators over her lifetime, according to its maker, which donates period supplies to charity partners including Bloody Good Period
It also claims to have saved 300 million pieces of single-use plastic from being thrown away since its launch last summer following a Kickstarter campaign that raised £56k – 280% of its £20k target.
Dame tampons are made from 100% certified organic cotton. They are hypoallergenic, free from bleach, rayon and fragrance-free, and the cord is woven not glued.