Sainsbury's deployment of disruptor snack brands in Local stores is designed to achieve differentiation and appeal to millennials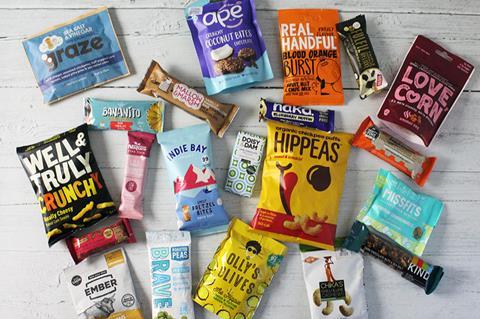 Over the past six months, Sainsbury's has completely transformed the range of till-side snacks in its Local c-stores, adding a raft of new products from small brands operating in emerging snacking categories such as raw confectionery, natural energy balls and chickpea puffs.

On a recent visit to one store, in Croydon, we were able to pick up products from more than 20 disruptor brands from a single fixture at checkout (pictured, above). These included Love Corn, Hippeas, Indie Bay, Missfits, Well & Truly, Olly's Olives, Brave, Mallow & Marsh, Real Handful, Doisy & Dam, Bananito and a huge number of Graze SKUs.
So what is Sainsbury's doing to cultivate such a wide range of small brands? And are there any drawbacks for brands from its approach?
What is Future Brands?
Future Brands is a Sainsbury's startup scheme formed in May 2018 and headed up by Rachel Eyre, who moved across from Sainsbury's marketing team for the role
The team seeks out and hand-picks 'distinctive' disruptor brands with a view to listing them in Sainsbury's
The brands are then offered guidance, mentoring and benefits such as free data before being listed in Sainsbury's Local stores and supermarkets, often in exchange for exclusivity.
Rationale
Sainsbury's is not alone in making what were once known as 'guilt lanes' healthier. Under pressure from government and health campaigners, all major retailers have overhauled their impulse ranging in recent years, delisting high-sugar treats in favour of 'better for you' snacks. Given how many small brands now operate in the healthy snacking category, any retailer looking to increase its healthy snacks ranging would struggle not to list at least some startups.

None, however, has targeted small brands quite as much as Sainsbury's. Go to events targeting disruptor brands and a team from Sainsbury's is sure to be there. This is partly because Sainsbury's is on a quest to differentiate itself from rivals, and small, interesting-looking brands present the perfect opportunity to do just that. At the same time, impulse snacking in food-to-go and convenience lends itself to encouraging shoppers to try something new.

"Consumers are demanding more when it comes to accessible, healthy impulse choices," says Dafna Bonas, founder of Indie Bay snacks, which recently won listings in Sainsbury's Local. "It's about giving consumers the opportunity to make smarter, healthier choices."

Crucially, Sainsbury's has developed two distinct operational advantages when dealing with small brands: a dedicated Future Brands team tasked with cultivating relationships with startups; and a new, more flexible ranging policy for c-stores, which allows it to tailor convenience ranges - including the crucial impulse snacking category - to local demographics and consumer needs.

What's more, its shopper demographic lends itself well to startup brands, says Bryan Roberts, insights director at TCC Global. "As Sainsbury's shoppers are relatively more affluent and 'foodie', they would be more minded to take a punt on a challenger brand than more budget-conscious shoppers elsewhere," he says.
Getting listed
For small brands, the process of working with Sainsbury's often starts with the so-called Find Team, whose job it is to scout for exciting disruptor brands as part of the Future Brands programme. If things progress to the next level and a brand is listed, brands then work with the Grow Team to grow their business within Sainsbury's.

In doing so, the retailer is giving startups more time and breathing space than would normally be the case, say several brands who have gone through the process. "With other retailers, if you don't start delivering within three months you'll soon have a conversation about being delisted," says one. "Sainsbury's understand small brands often need longer."

Olly Hiscocks, whose Olly's Olives pots and pouches have just been listed in Sainsbury's Locals, supermarkets and forecourts, adds: "Having the Future Brands team with you makes you feel as if there is always someone within Sainsbury's in your corner."

Support for startups isn't limited to the Future Brands team either. "It's also forward-thinking buyers like Lauren Orchard, who has done huge things for the guilt lanes in supporting challenger brands," says Thea Alexander, founder of the Young Foodies community for startups.
There is a quid pro quo, however - exclusivity. Although arrangements vary, the Future Brands team makes no bones about the fact it is primarily interested in securing exclusive listings. The more a brand can offer in terms of exclusivity, the more support it gets, be it in the form of data, insight or even discretionary space.

For startups desperate to secure their first retail listing, this can make for a difficult judgment call. Do they go all-in with Sainsbury's in the hope of more support - or do they keep their options open? "You don't know what other opportunities you might be missing out on," as one brand owner puts it.

Some are also concerned the sheer number of disruptor brands now available in Sainsbury's means it's harder to disrupt.

"The fixture in some shops can be quite confusing, especially where you have lots of products in categories that are not yet established," says one brand. "It's much harder to build a loyal customer following if you are one of 15 brands, all in colourful packaging, all shouting about healthy snacking."

Despite such concerns, the feedback from small brands is overwhelmingly positive. And the march of the disruptors in Sainsbury's is not stopping at guilt lanes, either. "We've recently been seeing 'Discover' ends in Sainsbury's stores that showcase 'exciting products, hand-picked for you', with SKUs across food, BWS and health & beauty," says Roberts at TCC Global. "This suggests that the retailer is becoming a destination for startups."