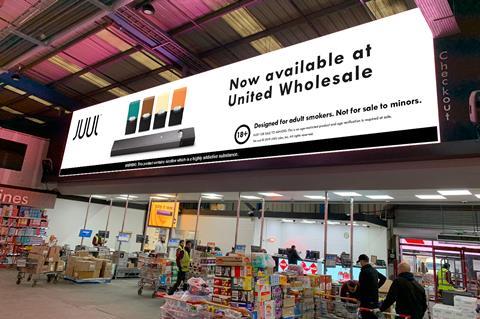 Vaping brand Juul Labs has expanded its wholesale network with two listings in major cash & carry operators Dhamecha and United Wholesale.
The listings of a range of Juul products will go live across depots for the London and Glasgow-headquartered groups from 1 January 2020.
Established in 1976, Dhamecha operates seven depots across London and two in the Midlands. United, which started trading in 2002, runs two sites in Glasgow and the United M9 warehouse in Grangemouth.
The launch in United will be accompanied by "significant activation" in its Queenslie 'depot of the future', with digital advertising, customer education and support in tobacco rooms.
Dhamecha trading director Mukesh Vithlani said: "The vaping category is an area that offers independent retailers huge scope for growth and we are delighted to be working with Juul Labs to help customers realise the potential of the category."
United MD Chris Gallacher added: "Juul's mission is unique in the industry and we are looking forward to working with them to encourage more adult smokers to switch across the independent stores we serve in depot and also through our 600-strong Day-Today and USave estates."
Juul Labs UK sales director John Patterson said: "To achieve our mission to improve the lives of the world's one billion adult smokers and eliminate cigarettes, we have to be stocked and visible in stores where adult smokers purchase their tobacco products.
"Cash & carry is a key route to market for many independent retailers and our partnership with United will increase our footprint across Glasgow and beyond. London is a key area for Juul in the UK, with the brand having a market share of 21.3% in the capital. Our partnership with Dhamecha will increase our footprint across London and also give us additional availability in Birmingham and Leicester."
Patterson added that Juul had been "highly selective" in entering the wholesale channel as each retailer has to sign up to its 'Challenge 25' programme.
"Implementing this at wholesale level has been challenging but necessary," he said.
"Challenge 25 is mandatory for all retailers regardless of channel or size, so for Juul Labs it is not simply a case of putting product on shelf in wholesale. We also have to ensure that any third parties we supply, including wholesalers, align with our policy of signing up retailers to enforce the necessary age-verification procedures to ensure that our products do not get into the hands of unauthorised users and, in particular, youth.
"We are working with each wholesaler to introduce robust age verification programmes in depot and online to prevent youth usage and help keep retailers within the law."