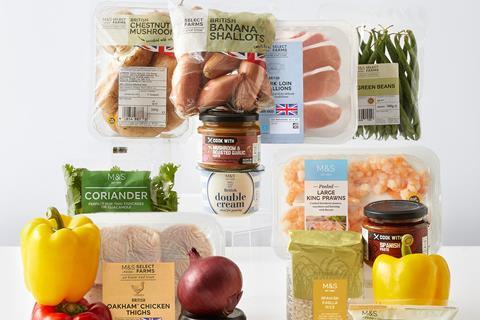 M&S has launched its first recipe box in a move it says will "shake up the market".
The £32 'Cook with M&S' box contains enough meat, fresh produce, sauces and pastes to make three meals for two, as well as accompanying recipe cards. Delivery is £4.99 per box.
The "super quick and easy to prepare" dishes in the introductory box – which launched today – are chicken tikka traybake with spiced potatoes and peppers; king prawn paella with bell peppers and garden peas, and pork loin medallions with a mushroom and garlic sauce.
"This is a bit of a game changer," said M&S director of product development April Preston.
"Amazing quality ingredients, super simple recipes allowing you to create the most delicious dinners from scratch. And all delivered directly to your door. I'm incredibly excited about this launch and can't wait to hear what customers think of the new boxes," she added.
M&S Food said its Cook With M&S range of sauces, pastes and seasonings was among its most popular. The own-brand has proven a marketing success too, with more than 70,000 cookbooks sold and an accompanying Youtube series hosted by chef Chris Baber an online hit.
"We've seen record sales… as recipe demand hits an all-time high and customers look for much-needed inspiration for mid-week meals," the supermarket said.
The recipe box is the latest in a line of food boxes launched by M&S over the past few months, including a 100% British Meat Summer Food Box last month and a seasonal fruit and vegetable box in May.
Him and MCA Insight research in May found an 18% increase in the number of consumers using food boxes during lockdown. Several specialist DTC recipe kit providers reported being forced to turn down new customers as they grappled with "unprecedented" levels of demand.