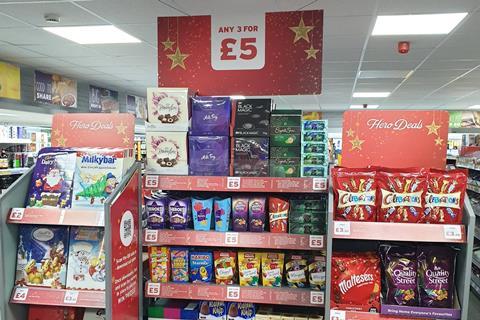 Sales of gifting options have surged across One Stop franchises as customers remain deterred from visiting non-essential shops.
Gift sets of health and beauty products, gift cards and candles are some of the products to experience a sales uptick since the onset of second lockdown.
A Burnley-based One Stop store has recorded a 20% increase in sales on these lines compared to this time last year but "anticipates more as we get nearer to Christmas".
Owner Sophie Towers said this was a result of customers not being able to visit "the usual shop", as well as wanting to support local businesses.
"We have noticed people have started buying differently than last year and are buying these gifts earlier than usual and in higher volumes," she said.
"For some, they said they never bothered to look what we had sold previously as they already shopped elsewhere for gifts and would only buy a gift from a convenience store if they had forgotten one.
"This has now changed as they realise we are the same if not cheaper than where they were previously going for those gifts."
One Stop franchisee Aman Uppal, based in Mount Nod, Coventry, has also reported a spike in sales, selling 30% more in gifting products compared to November 2019.
"With lockdown restrictions in place nationally, it gives retailers a great opportunity to provide a One Stop shop for Christmas gift items and snacks," said Uppal.
"Therefore, competitive pricing will be even more important this winter as shoppers will be looking to top up their grocery baskets with extra items instead of shopping in multiple stores."
Uppal said they have a market-leading offer every year on chocolate boxes of three for £5, and branded alcohol, health and beauty sets that are "priced competitively" between £5 and £10.
Yankee Candles have also been added to its range this year.
One Stop head of franchise John Miller said: "We're supporting our franchisees throughout the coronavirus lockdown to make sure they've not only got the everyday essentials in store but also meeting their customers' wider needs, as some retailers unfortunately remain closed.
"Knowing what they need is available at their local One Stop also helps reduce the amount of shopping trips customers are making, so they can shop for what they need in a safe and secure environment while their risk of exposure is reduced.
"Our franchisees remain committed to supporting their local communities in whatever way they can throughout these difficult times."