As the weather turns markedly more autumnal, high street food chains are getting prepared by unveiling their seasonal menus. Here's a peek at what's on offer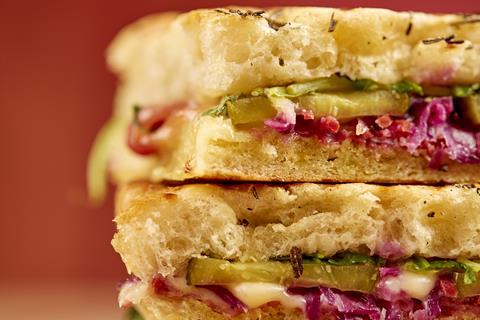 Pret a Manger
Pret's seasonal menu features new toasted foccacia in Brie & Bacon, Mozzarella, Pesto & Roasted Tomatoes and Salt Beef & Pickles flavours (rsp: £4.50), as well as two lunchtime omelettes – Spicy Chorizo & Red Pepper and Squash, Soft Cheese & Feta (rsp: £4.50).
Other dishes include a Classic Cheese & Spring Onion toastie (rsp: £3.99) Pulled Ham, Egg & Pickles Baguette (rsp: £3.50), Mexican Sweet Potatoes Wrap (rsp: £3.50) and a salad with Roast Squash, Pecans & Feta Dressing (rsp: £4.50). The chain is also bringing back its Mushroom Risotto Soup (rsp: £3.60) and adding Gluten-Free Soup Bread (rsp: 60p) for the first time.
A range of new sweet treats and drinks includes a Ginger Snap Biscuit and a Pecan & Caramel Cookie (rsp: £1.45), Pure Pret cans of Ginger Kombucha (rsp: £2.25) and Rhubarb Lemonade (rsp: £1.20) and a Pumpkin Spiced Latte (rsp: £2.95).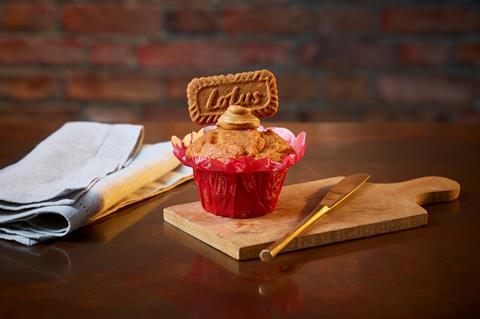 Costa Coffee
The coffee chain has marked the new season by adding two warming dishes – Roasted Carrot & Coriander Soup (rsp: £2.95) and Bolognese Mac & Cheese (rsp: £3.95) – to its lunch deal menu, which is now available from 11am until close. They join a range of new sweet items, including a Lotus Biscoff Muffin (rsp: £2.25), Chocolate & Caramel Bun (rsp: £1.95) and vegan Chocolate Caramel & Hazelnut Cookie (rsp: £1.85).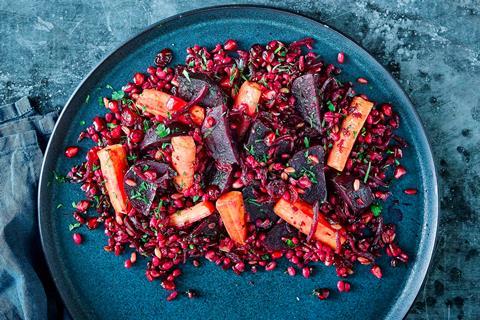 Caffè Nero
Nero unveiled its new deli menu with a catwalk at its Covent Garden store this week. To coincide with London Fashion Week, celebrity stylist Gayle Rinkoff has created autumnal looks inspired by Nero's new range, which includes three salads – Vegan Roasted Beetroot, Carrot & Mixed Grain Salad, Vegan Tricolore Cherry Tomato, Cucumber & Radish Bowl Salad, and Chicken & Bacon Caesar Pasta Salad, which are all £1.90 as a side or £3.80 as a main.
Sandwiches (rsp: £5,25) include a Vegan Deli Sandwich – containing sweet potato, spicy vegan mayo and smoky tomatoes – and an Italian Cotto Ham, Salami & Mortadella Deli Sandwich. There are two tartlets (rsp: £3.95) in Bacon, Roasted Tomato & Mozzarella and vegan Roasted Butternut & Balsamic Red Onion. A Pork & Pancetta Sausage Roll (rsp: £3.45) and Margherita Stonebaked Pizzetta (rsp: £4.75) complete the savoury offering, while sweet treats include a Raspberry & Amaretti Crumble Cake, (rsp: £2.50), Sicilian Lemon Drizzle Loaf Cake (rsp: £2.35), Apricot & Ginger Crumble Cake (rsp: £2.50) and Banana & Walnut Loaf Cake (rsp: £2.35).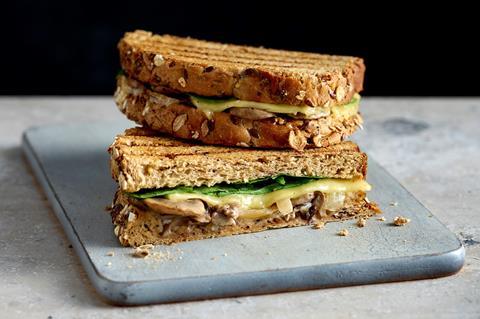 Eat
There are two new toastie options on Eat's autumn menu this year. Made with multi-seed bloomer, the vegan Mushroom Melt (rsp: £3.99) contains mushrooms, caramelised onions, vegan smoked 'gouda' cheese and vegan garlic mayonnaise, while The American Melt (rsp: £4.25) is filled with smoked ham, emmental cheese, sliced gherkins & American mustard.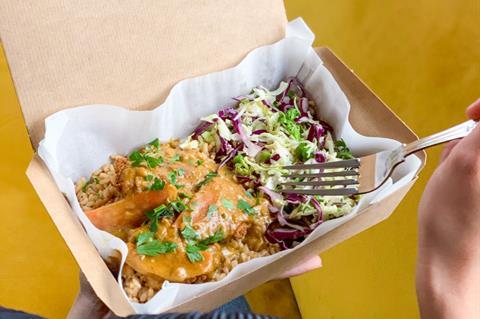 Leon
Natural fast food chain Leon has launched a gluten-free chicken Katsu Curry, which it claims is a UK high street first. Lucky Katsu (rsp: £7.45) is made using the restaurant's coeliac-friendly GFC nuggets, complete with a coconut-based curry sauce, brown rice and vegetable slaw.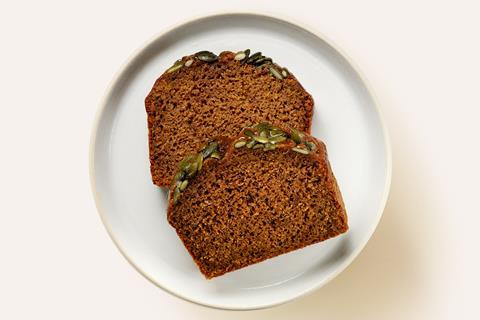 Starbucks
You know it's really autumn when Starbucks brings back its Pumpkin Spice Latte. As well as the classic hot serve, the drink will be available as a frappuccino and an iced cold foam macchiato this year. Fans of the flavour can also try it in cake form, thanks to Starbucks' new Pumpkin Spice Loaf (rsp: £1.99).
The chain has also added a new seasonal drink. The Mocha Praline Macchiato (rsp: £2.95) contains hazelnut, espresso and mocha sauce, and is available both hot and iced.