Chorizo Paella Pastry Shells
Waitrose is featuring a range of international flavours in its party food offering this Christmas, from Morrocan Mushroom & Chickpea Pittas (rsp: £6) to a selection of Asian-inspired steamed buns (rsp: £6). Carrying on the theme, the retailer is offering a taste of Spain with its chorizo paella canapés (rsp: £6), complete with crunchy mussel-shaped pastry shells.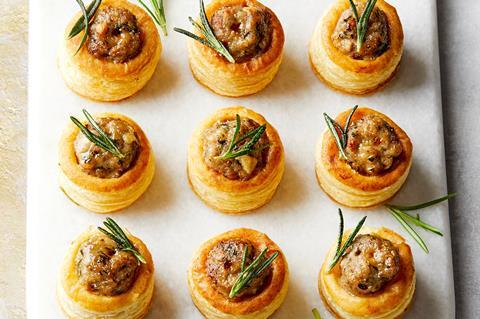 Partridge in a Pear Tree
There are also some more traditional vol-au-vents, such as these Waitrose 1 puff pastry bites (rsp: £7) filled with minced partridge, pork sausagemeat and a sweet pear chutney.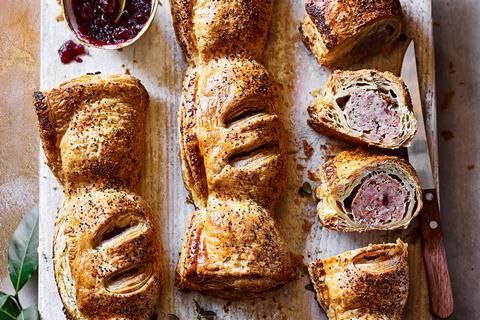 Pork & Pancetta Christmas Cracker
Also part of the Waitrose 1 range is the retailer's festive take on a sausage roll (rsp: £10/450g). Serving 10 people, the puff pastry cracker is filled with British outdoor-bred pork, smoky pancetta, cranberries and sage & onion stuffing.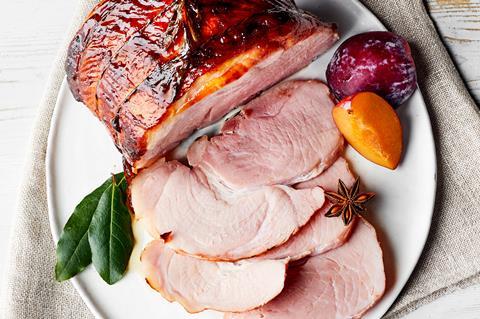 Honey Cured Gammon with Plum & Spiced Ginger Glaze
Staying true to Waitrose's signature flavour profile for this year – plum, spiced ginger & honey – this sweet and fruity gammon (rsp: £12.99 per kg/1.35kg) serves seven to eight people.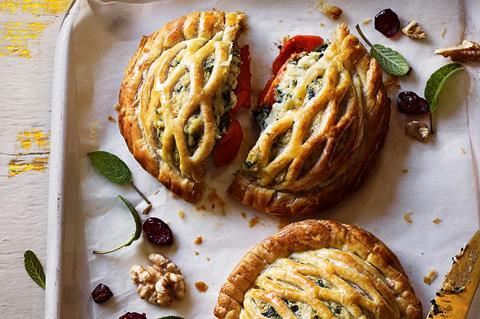 Vegan Root en Croute
Part of an extensive vegan offering this festive season – including centrepieces, side dishes and desserts – Waitrose's Root en Croute (£5.99/350g) is a crisp puff pastry lattice parcel filled with roasted carrots, seasoned with smoky paprika and dill and finished with a creamy spinach sauce.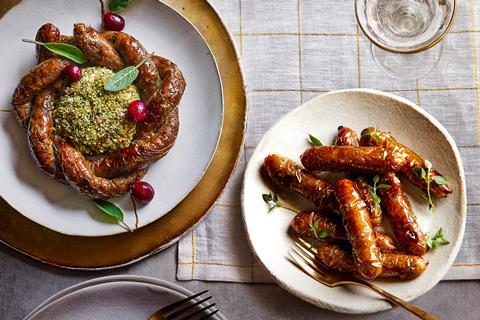 Vegan Festive Ring
This meat-free centrepiece (£5.99/410g) combines two types of vegan sausage – apple & cranberry and mushroom & leek, which are also sold separately – with a fruity stuffing and crunchy parsley crumb.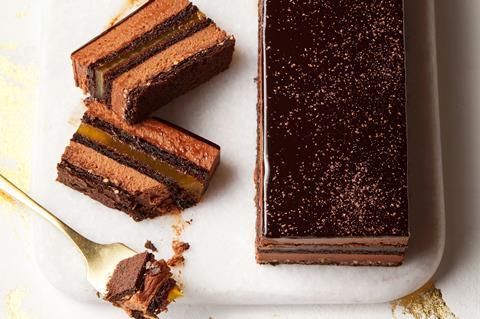 The Giant Jaffa Cake Dessert
For consumers who love the classic combination of chocolate and orange, this light, opera-style gateau (rsp: £13/650g) features layers of airy chocolate and clementine mousse, chocolate cake, tangy clementine jelly and a sprinkling of orange candy crush.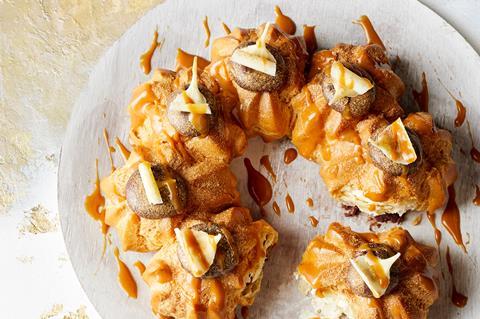 Chocolate, Caramel & Vanilla Choux Wreath
The retailer is following on from the success of wreath desserts last year with this decadent choux pastry garland (£13/695g). It features a filling of vanilla cream and is topped with Swiss chocolate fondant, white chocolate curls and salted caramel sauce.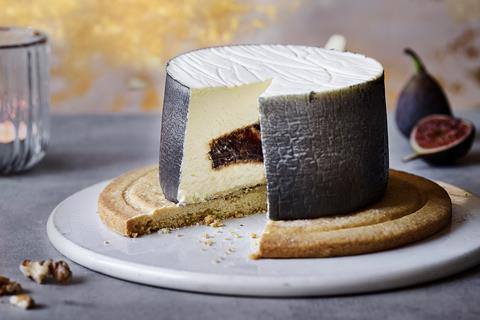 Heston from Waitrose Fig & Port Cheese Cake
Master of the surprise dessert (remember the hidden orange Christmas pudding?), Heston's hero product for this year's Waitrose range isn't exactly what it seems. It may look like a wheel of ash-covered cheese, but this is really a soured cream cheesecake with a hidden centre of fig and port compote (£12/700g). Even the 'cheeseboard' base is made of lemon shortbread.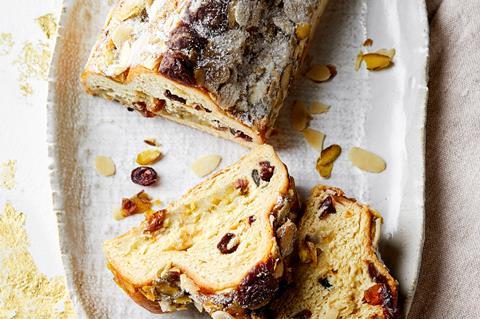 Heston from Waitrose Pistachio Stollen Loaf
Another addition to the Heston range is this take on the traditional Christmas cake. The buttery brioche stollen (rsp: £7) is filled with lashings of pistachio marzipan and topped with apricot jam, sweetened cherries, pistachio and almond flakes.