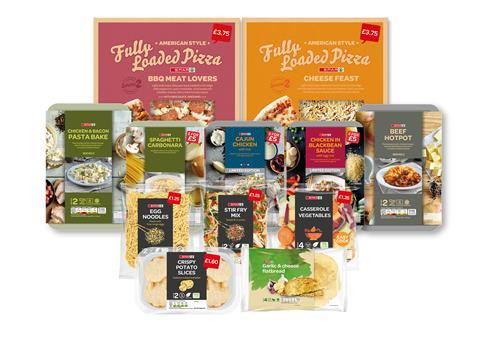 Spar has launched a new dine-in for two offer as part of its new evening meal range.
The new own-label products will be available in-store from 10 September.
The range will include a new line of pizzas, chilled flatbread, pasta, pasta sauce, noodles, ready meals and prepared vegetables.
The meal deal 'dine-in' offer will be made up of a main meal and one side dish designed for two people and will be priced at £5.
The symbol group is also adding new evening meal options to its existing range including a chicken and bacon pasta bake (rsp: £4), a mince beef hotpot (rsp: £4) and a "fully loaded" cheese pizza (rsp: £3.75).
"It is essential to attract meal for tonight shoppers," said Spar UK assistant brand manager Myles Mersh. "Our new mix and match evening meal deal for two will encourage shoppers to cross-purchase and will keep them coming back again. This will signal Spar as a genuine destination for the dinner mission and drive sales in-store.
"We know vegan, healthy and low-fat products, ethically sourced meat and world cuisine are very popular and our range of Spar own-label products perfectly complements these trends."
The launch will be supported with PoS, social media, e-newsletters, in-store radio, bulletins and in merchandising guides.