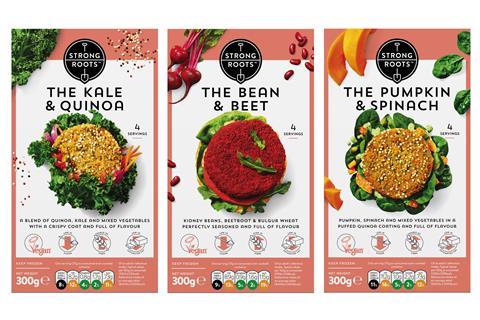 Strong Roots has rolled out a new look across its range of frozen plant-based products – but some SKUs have fallen prey to shrinkflation.
The brand's new packs hit shelves this month, featuring updated imagery and new recyclable cardboard packs for its trio of burgers, The Kale & Quinoa, The Pumpkin & Spinach and The Bean & Beet.
The boxes feature dual orientation imagery and a soft-touch varnish finish for a "luxurious feel", according to Strong Roots.
However with the move their pack sizes have shrunk from 375g to 300g, with no corresponding reduction in rsp, remaining £3 per pack.
A Strong Roots spokesman said the new pack sizes reflected "a more convenient and space-efficient product in fully recyclable packaging".
"We wanted to ensure constant relevance with our customers by offering warmer, cleaner and more natural feeling branding that better communicates the Strong Roots values," added its CEO Sam Dennigan.
Images used on the new packs were supplied by San Francisco-based food photographer Annabelle Breakey, who has worked with big names in food and drink such as McDonald's.
The new packs also feature QR codes, through which shoppers can access "online activations and recipe inspiration".
Shoppers were "not searching for meat replacements, but instead want interesting and tasty plant-based concepts to increase their vegetable intake", said the brand.