By the time he speaks to The Grocer on Tuesday afternoon, Majestic Wine CEO Rowan Gormley is clearly sick of talking to journalists.
On Monday, Gormley - who spent three years turning Majestic from a battered and outdated wholesale business into an upmarket wine specialist - announced the company plans to significantly dial down its retail estate, freeing up resources to focus on Naked Wines, its thriving online business. Jobs will be lost.
In the tidal wave of speculation from media and analysts that followed, shares have plunged from 270p to 219p – their lowest point for the year to date at the time of writing.
The full scope of its restructure is yet to be revealed. Majestic says it will offer a more detailed update in June with its full-year results. Still, the message is clear: Gormley sees little future for high street wine retail.
So what does the future hold for the wine warehouse? How many of its stores are likely to be sold? And what are the ramifications for suppliers?
Does this mean Majestic's turnaround failed?
Not according to Gormley. "In the three years before Majestic bought Naked (in a reverse takeover that installed Gormley as CEO) sales had gone backwards," he admits. "Since then they've gone up 18% or 19% over a four-year period."
Indeed, Majestic - which has maintained a ruthless focus on customer engagement, fostering loyalty by offering shoppers a considerably more personal and attentive experience than the mults - has stayed afloat while rivals like Oddbins have collapsed.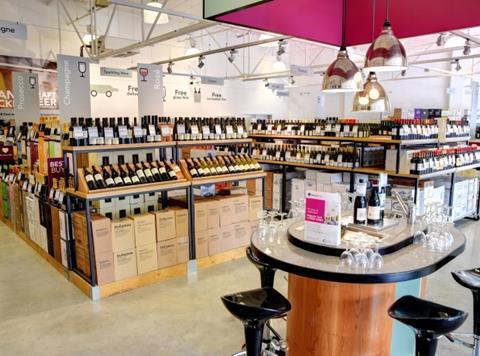 "At the same time, costs have gone up by about £40m thanks to a combination of duty increases, currency deflation, rates… all these things," Gormley adds. "And we're still making double-digit millions worth of profits over a period where, had the business continued along its previous trajectory, it would be bust by now."
Majestic itself isn't the problem, he insists. The problem is that the independent off-licence model is dying in the face of supermarket competition. "We are sitting here with a business – in this crap market – that is bigger and remains profitable despite these costs," he says. "We're doing this now because we can, rather than waiting until we have to."
And Naked is, after all, far more profitable. Its revenues grew 14% over the first half of FY18/19 (to 1 October 2018), while Majestic Retail was up just 1.9%. Approximately 45% of the group's total business is now done online, and it is growing fastest in the US.
Fair enough. But given the state of the UK market, who would want to buy Majestic's stores?
There has been interest already from at least one potential buyer, Gormley confirms, though it's early days and "we don't know if it's serious and we can't speculate on it".
"Although we know what the individual stores' prospects are, we don't know what the market appetite is for them", he says, admitting the most likely plan is "we will move some stores across to Naked and run off the tail".
"Remember, we have choices: what we don't have is loss-making stores. Very few of these stores lose money. And there's also the option of just running some until their lease comes to an end."
Majestic Commercial, the on-trade wholesale arm of the business, will likely be sold alongside any significant number of stores, he adds. "It would make a lot of sense for someone to buy Commercial as it is so integrated with the stores."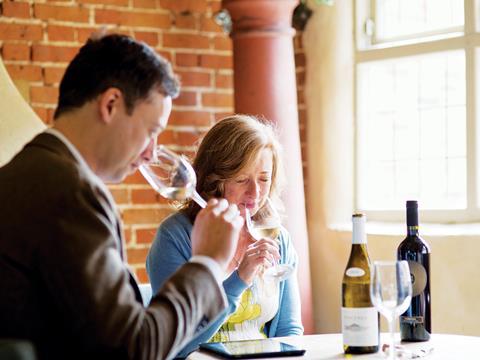 Then there's the question of what happens to Majestic's 'franchise-lite' store managers – those it has deemed successful enough to take greater control of their individual outlets, running them with greater autonomy and taking home a higher salary. Gormley says there are no plans to allow them to buy their stores.
"If we're being realistic, the average age of these guys is about 24 to 25. And these are stores that ideally, we would want to keep because they are the best performing stores with the best people in them. I think the chances of running it as a conventional franchise are pretty slim."
What does this mean for suppliers and the range of products Majestic sells?
It could spell bad news for any business supplying mid-tier wines to the retailer – as Gormley says its likely Naked and Majestic's range and supplier base will be consolidated. "It would make sense to have a single range," he says.
"Majestic does have a stable of very good winemaker wines as well as some that are closer to what you might call 'supermarket wines'. The more authentic wines would be perfectly at home in Naked, but the supermarket wines obviously not."
Majestic has already made a start in trimming down its range: The Grocer revealed last year that it had embarked on plans for a "massive rationalisation" of anything comparable to what shoppers could find in the supers.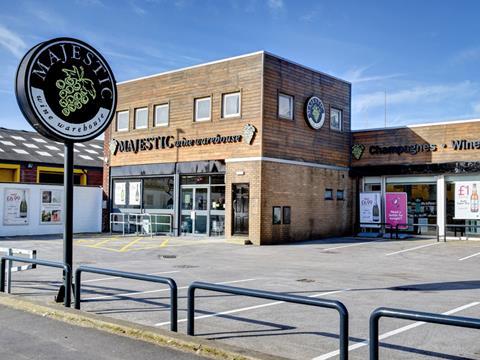 Its buying structure is being shaken up too: its head of buying Cat Lomax resigned in January take up another role in the trade, but Majestic said it will not be replacing her. Senior buyer Julie Buckley has also left the business in what it called a move to "a smaller, flatter team structure" in a letter to suppliers this month.
Sources claim Majestic is looking to cut costs across the board. "The pricing they are after is just nuts – they want the cheapest possible price," says one figure in the wine trade.
Thus there may end up being as little incentive for those 'supermarket wine' suppliers to deal with Majestic as there is for Majestic to stock them.
So what does the future look like?
Providing Majestic does hang on to some stores, it will be interesting to see if the Naked brand can translate into physical retail. If so, Gormley doesn't rule out seeing if that could be translated into other markets abroad.
Although, he says, "what we're not looking to do is build 3,000 sq ft warehouses in America. They already exist and they're not doing very well. The way we see the future [of physical retail] is as a new customer acquisition channel rather than a shop. An experience rather than a transaction."
This could look "much more like a concession model", he says. "So instead of opening a warehouse with £100,000 worth of inventory, you would have a concession in a high-traffic area like a department store or a station and customers would taste and order the wine for home delivery."
One thing's certain: whatever shape Majestic ends up in, the days of the Wine Warehouse are over.
This article was changed on 1 April to reflect that Cat Lomax left the business to pursue other opportunities unrelated to the restructure.


Daniel is The Grocer's food and drink editor and is responsible for our product coverage across all fmcg categories.

Daniel has written about food and drink for the majority of his career: prior to joining The Grocer in 2017, he covered food and drink news on pub industry title The Morning Advertiser, and wrote features for VICE magazine.

Follow Daniel on Twitter: @WoolfsonExists