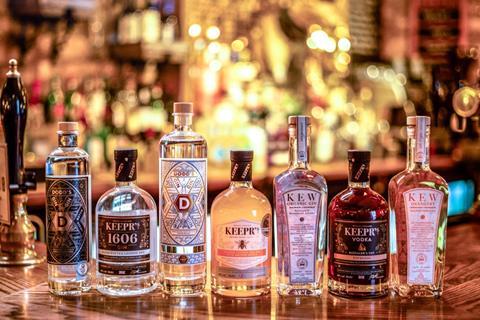 The London Distillery Company has been rescued from administration in a sale to honey and fruit-infused spirits producer The British Honey Company.
The Bermondsey-based distiller hired restructuring advisors at Geoffrey Martin & Co to handle its administration process earlier this month, after it collapsed amid regulatory issues and a failed crowdfunding campaign.
British Honey, the business behind spirits brand Keepr's, has now taken over the distillery operations and incorporated a new business, The London Distillery Co (BHC).
The acquisition, of which no financial details were disclosed, was part of British Honey's "ambitious" growth strategy for 2020, with the combined business set to offer an "enhanced range of products whilst expanding into a new customer base" including Waitrose, Harvey Nichols and Fortnum & Mason, said British Honey founder and CEO Michael Williams.
He added: "Honey is at the heart of our business and we are always keeping an eye on the wider market and the innovative use of honey in spirits.
"It was The London Distillery Company's sustainable approach and award-winning Dodd's Small Batch Honey Gin that attracted our interest. We were particularly intrigued by and impressed with its approach to producing premium spirits and I am pleased to confirm that this acquisition of ongoing business will allow us to leverage both our synergies and differences."
Originally founded in 1807 and re-established in 2011, The London Distillery Company was the first whisky distillery in the capital for more than 100 years.
The company's lineup includes the Dodd's Gin and Kew Organic Spirits ranges as well as a limited-edition Rye Whiskey. It exports to over 20 countries including China, Canada, France, Germany and Hong Kong.
It had ambitious expansion plans in the pipeline, including a new distillery at Battersea Power Station that would also house a hidden members club and event space.
However, in October 2017 founder and CEO Darren Rook left the business amid an HMRC investigation into tax concerns at the distiller, a new management team took over and the Battersea project was cancelled the following year.
A failed crowdfunding campaign launched in 2019, to raise £500k, led to the resignation of three more directors and the collapse into administration.
All of The London Distillery's four employees were offered positions within British Honey, with two of them having already started in their new roles.