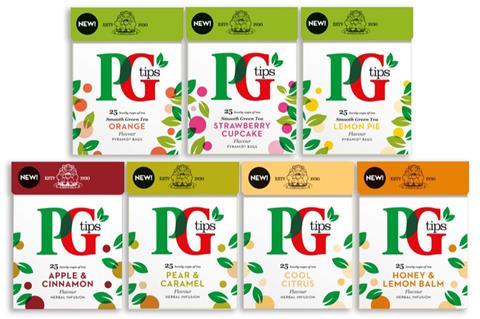 A restructuring of Unilever's traditional tea division, including PG Tips and Lipton, could see the brands venture into the growing herbal tea category as the fmcg giant looks to offset declines in black tea.
Unilever denied it was "exploring a sale" of its tea business, contrary to media reports that had speculated a sell-off of the division was on the cards amid slowing demand for the traditional British cuppa.
"PG Tips and Lipton are very popular brands, and although growth of black tea in developed markets has slowed down, we said publicly earlier this month to investors that we are focused on turning this around, while also expanding the brands into herbal teas and other segments that are growing," a spokeswoman told The Grocer.
Sales of black teabags have fallen 3.4% amid cooling demand from millennials and gen Z consumers on the lookout for exotic tastes and functional properties [Kantar 52 w/e 19 May 2019].
Within this, PG Tips sales dropped £5.6m, or 5.4%, to less than £100m, losing its spot as the nation's bestselling tea brand, which is now Twinings [Nielsen 52 w/e 7 September 2019].
Smaller Unilever-owned tea brands Pure Leaf and Scottish Blend saw revenues down 36% and 2.3% respectively in the same period. Lipton's sales, however, grew to £557k as volumes rose 1,663%.
The company has experienced first-hand growth in the herbal tea category. Its premium brand Pukka, acquired in 2017, increased sales by 16% to £22.8m last year.
The expansion into fruit & herbal for PG Tips could be the solution to offset the challenges in the category. Unilever admitted last month it saw "subdued consumer demand for black tea in developed markets".
However, in 2016 Unilever looked to spice up PG Tips sales with a push into green tea and herbal infusions. A year later, the range was delisted by Tesco and Asda.
Kantar analyst Wandi Zhang noted that despite tea being in "long-term decline", fruit & herbal as well as decaf tea were the category's "silver linings", growing 11% and 4.4% respectively last year.
Higher prices and more customers contributed to the increase while "other tea sectors are losing shoppers and volume as tea has become less of a routine for consumers", Zhang added.