Founder Chris Edwards blames too many price points, while rivals such as Poundland are better engaged with customers
In a year punctuated by high street insolvencies, the biggest so far in job loss terms loomed this week as Poundworld appointed administrators.

The move threatens 5,100 jobs and 335 stores, with administrator Deloitte pointing to product cost inflation, weaker consumer confidence and "an increasingly competitive" discounter market.

So why are some doing better than others? As Poundworld founder Chris Edwards, who sold the business in 2015, told BBC Radio 5 Live, "B&M Bargains hasn't gone, Home Bargains hasn't gone." Poundworld has been in the red for some time: pre-tax losses increased to £17.1m in 2016-2017. And though Poundstretcher's profits were up 13%, sales fell 7.5% as it shrunk its estate.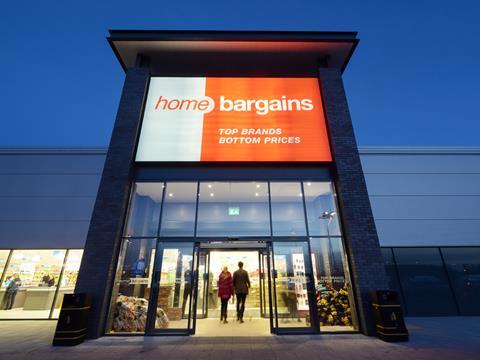 How the discounters differ
Home Bargains: Multi-price with 505 stores, split between high street and out of town retail parks. Ranges include homeware and ambient food, with fresh added in the past two years. Plans to open 50 stores this year.
B&M: Multi-price with about 560 stores, many in retail parks. Ranges include DIY, toiletries and ambient and frozen food.
Poundland: Limited multi-price points, with 50p, £2 and £5 added to the traditional £1. Recent additions include Pep&Co clothing. About 850 stores, mostly on high streets but with some out of town.
Poundworld: Accused of moving too far from single-price after sale to TPG in 2015. Has 335 stores, mostly on the high street.
Poundstretcher: Multi-price with about 400 stores, in retail parks and high streets. Ranges include garden and homeware, plus ambient food and other groceries.
In contrast, sales momentum for the aforementioned Home Bargains owner TJ Morris (sales up 16.6%, pre-tax profits 23%) and B&M (sales up 22.4%, pre-tax profits 25.4%) is strong. Poundland also appears to be in good shape, despite the Steinhoff accounting scandal, with like-for-like sales up 5.6% for the 12 weeks to 24 December. And Aldi and Lidl are of course also in double-digit growth.

Edwards, who wants to buy some of Poundworld from current owner TPG Capital, blames management, saying there has been a a move to too many price points.

Catherine Shuttleworth, CEO at shopper and retail marketing agency Savvy, agrees. "Single price-point retailers are successful when they're simple and Poundworld in particular, through owners TPG, have added complexity."

"They are all over the map when it comes to multi-price," says a Poundland source. And though Poundland has itself introduced new price points of 50p, £2 and £5, it still sells "around 90%" of products at £1.
Confused customers
Poundworld has also confused customers by not clearly distinguishing single from new multi-price ranges. That's according to a restructuring plan recently leaked to The Grocer, which also suggests range is weak and customer service poor.

Neglecting range is something discounters can ill afford because "it's no longer enough just owning cheap prices," says Jemima Bird, CEO of retail consultancy Hello Finch. "The survivors will be the stores that give customers more of a reason to visit."

Exactly what Poundland appears to have done with the rapid rollout of Pep&Co, with 300 'shops in shops' opening by the end of June. In contrast Poundworld's report admits that "range density is too low in some categories".

Key to range is smooth relations with suppliers. "The successful ones have a true trading mentality - quick to market with products and quick to exit when needed," says Shuttleworth. "Notably B&M and TJ Morris are easy to deal with, commercial and a breath of fresh air, according to suppliers."

It was Home Bargains that earlier this year came up with the idea of a drive-through to make it easier for sales representatives to pitch new products at its HQ in Liverpool.

Nor will downgrading of Poundstretcher's credit insurance in March have helped relations with suppliers, often leading to demand for payment upfront, though Poundland appears unscathed from a similar development in December after that accounting scandal.

But it's not only suppliers they are failing to engage, says Bird. Poundland and B&M's social media channels offer "an emporium of engagement, competitions, funnies and outreach."

"It's vibrant and it feels like they've given their customer engagement strategy some thought beyond merely 'if it's cheap enough, they'll buy.'"

Few will quickly forget Poundland's Christmas social media campaign, showing a toy elf in sexually suggestive posts. It earned a rebuke from the Advertising Standards Authority, but the channel successfully "conveys more layers and dimensions of brand than simply 'we're cheap'" adds Bird.

In contrast, "Poundworld's offers, on its social channels, are little more than a dispassionate rundown of things that cost £1. It's the same with Poundstretcher, with the added complexity of multiple price points. If social activity reflects these businesses' general customer engagement strategy, it's no wonder we're seeing a schism."
Out of town factor
Consultant John Butler thinks Poundworld's high street positioning hasn't helped. He points to a £26m loan Poundworld secured in 2014 to pay for up 150 stores over three years, while competition was moving out of town. "We now know this wasn't sustainable in the UK high street, with rising rent, rates and £1 price point retail market saturation," he says.

Edwards has described a reluctance from TPG to sell back to him, because his turning the business around again could "make them look a bit stupid".

Thousands of former staff will hope his efforts are not derailed by further financial misjudgement.