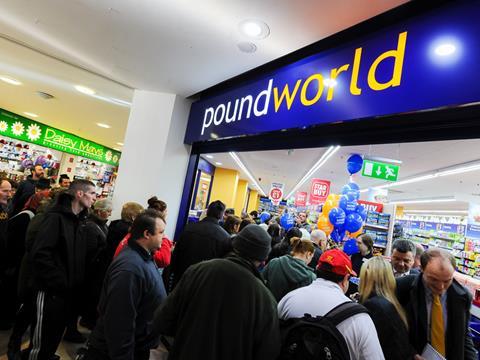 Poundworld founder Chris Edwards is considering saving part of the business by buying back some of the stores.

The variety discount chain collapsed into administration yesterday, threatening over 5,000 jobs and placing 335 stores at risk of closure.

Edwards, 67, founded Poundworld in 1974 and sold it to current owners TPG Capital for £150m in 2015.

"I will know within two weeks if I can save the business," he told BBC Radio 5 Live. "And if no buyer is found by then, the firm will go to the wall."

Administrators Deloitte had pointed to 'high product cost inflation, decreasing footfall, weaker consumer confidence and an increasingly competitive discount retail market,' in a statement earlier.

Edwards blamed management, saying: "B&M Bargains hasn't gone, Home Bargains hasn't gone, Wilko hasn't gone.

"So for every store that goes down others are still thriving. It's about management style, that is what makes the business work."

He said there had been a failure by management to revaluate what they could offer for £1. "We had the single price for 20 years and we've had all these obstacles before. You just re-evaluate your items but as long as you're giving customers good value you get over it.

"This is one of the reasons why Poundworld have found themselves in financial trouble, because they didn't have the management team that could readjust their prices as they went on.

"What you do with a pound, as long as you give unbelievable value compared to other retailers, you stay in business. Their management team didn't have the mentality to readjust, so they kept buying the same items, which obviously was costing them more. And they just lost the margin."

Poundworld had also introduced too many prices, confusing customers after 20 years of a single £1 price point, he added.

He said he had been attempting to negotiate to buy stores for six weeks but would not be able to do so without backing from investors.

"When you sell a business to a firm and they get into trouble, they try to find a buyer other than the person they bought it from because it would make them look a bit stupid if they bought a successful business, made it bad and then sold it to the same person and they made it good again.

"So we were never the front runner. There were lots of people looking at buying it and one by one they've all dropped off. I've had a phone call from Deloitte today and they've asked are we still interested.
"The problem we've got, when we first showed interest that was about six weeks ago. They've been selling stock off which is in fact selling the assets."

Deliotte was appointed after talks with potential buyer Rcapital collapsed over the weekend.

Deloitte said Poundworld would continue to trade while a buyer for all or part of the business was sought, with no immediate redundancies or store closures.