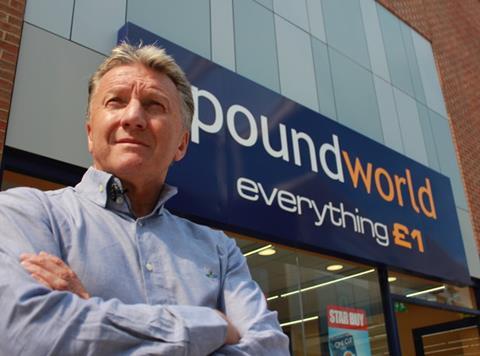 Poundworld's founder has said he is moving "further away" from striking a deal with owners TPG Capital to save 186 branches and about 3,000 jobs.

Chris Edwards, who founded Poundworld in 1974 and sold it to TPG in 2015, told The Grocer talks had reached a deadlock.

He said he had secured all the backing he thought possible from Santander and feared the chain was being devalued by closing-down sales.

Administrator Deloitte has said it had yet to receive a "credible bid".

"If I put my hand on my heart I think we're moving further away [from a deal]," said Edwards. "I'd like to think not but reality tells me we are.

"I went looking around 10 shops the day before yesterday to see what condition they were in stock-wise and for staff morale, cleanliness. I saw a few things that made me feel good but I saw a hell of a lot of shops that looked very run down.
"I've got a situation where my heart and my head is in conflict. My heart tells me I want to save the brand because we created it and my head is saying I think they've run it down too far."

Edwards said he believed he was the only bidder interested in preserving the chain and "nearly all" it 335 branches and 5,000 jobs at risk could have been saved had TPG been more willing to negotiate earlier.

"If we'd come on board four weeks ago I daresay that nearly all the jobs could have been saved at that point," he said.

"The big problem for us is not handing the money over to take control of the business. It's how long it takes to stabilise it by getting the stock in. Because a lot of the stock in Poundworld comes from China and there's a three to six-month lead time. So how many weeks have you got to go through before you can stabilise the business? That would cost more than the purchase price."

He said he expected talks to conclude in about 24 hours and was "not optimistic".

He added: "I think we've pushed Santander as far as they will go. We were looking for a bit more help. Considering where the business is at the moment they're just a bit apprehensive to go any further."

A Deloitte spokesman said: "The administrators continue to seek a buyer of all or parts of the business. To date no party has presented a credible and acceptable bid with accompanying confirmation of funding. We have provided guidance to indicate how a successful bid might be structured and have provided detailed information to assist bidders in an effort to help them wherever possible. In the interim, as one would expect in these circumstances, we are preparing for all eventualities as this process continues."

Poundworld fell into administration on 11 June after talks collapsed with prospective buyers of the business as a whole, including RCapital and Alteri Investors. That followed a restructuring plan under which 117 branches of the store estate were already set to close.

Around 100 head office staff were made redundant on 18 June.