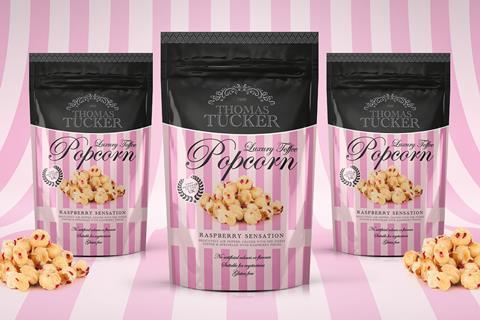 Popcorn supplier Thomas Tucker has called in administrators after a food safety recall caused a cash shortfall in the business.
The Nottinghamshire-based business, which featured in fourth place in The Grocer's 2016 Fast 50 list of high-growth food and drink firms, yesterday appointed Mazars to handle its administration process.
The supplier continues to trade, although a number of redundancies have been made, and the administrator is seeking a buyer for the business as a going concern.
Thomas Tucker has grown into one of the UK's largest independent popcorn manufacturers, operating the brands Tommy Tucker, Thomas Tucker, Family Bakery and Krax.
The Business is a key supplier to the British cinema industry and supplies private label products across the retail, leisure and hospitality sectors. It also acquired RJ Foods family bakery in 2015 to offer a portfolio of baked goods.
Adam Harris, joint administrator, Mazars, said a recent food safety recall was the primary reason behind the collapse.
"The business has had a difficult year and had undergone an operational restructure and further investment by its owners," he said.
"Whilst the underlying cause was disputed, the business agreed a voluntary product recall following an ongoing investigation with the Food Standards Agency. The recall has resulted in significant losses, pressure on working capital and, following a review, there were insufficient further funds available to bridge the shortfall identified.
"Sadly the administrators have, as a result of the financial position, made a number of the staff redundant. Nevertheless, we are hopeful a sale will be achieved in light of the Business's reputation for quality and its dedicated workforce. A going concern sale would secure the best outcome for the business's suppliers and customers and secure a future for the remaining employees."
The FSA recall last month related to warnings some products may contain milk, thus making them a possible health risk for anyone with an allergy or intolerance to milk or milk constituents.