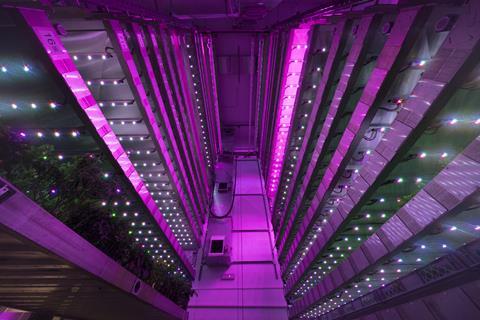 Sustainable fresh producer OneFarm appears to be battling for survival having filed a notice of intention to appoint an administrator with the courts, The Grocer can reveal.
It puts the company's ambitious development plans for a 6,400m2 vertical farm in Suffolk in jeopardy and creates uncertainty for the public and private investors who have ploughed £7.5m into the project.
The Dutch-based group filed the notice for its UK-registered OneFarm Ltd subsidiary with the courts on 11 September 2023, hiring law firm Freeths to oversee proceedings.
Details of the situation remain unclear as OneFarm did not respond to a request from The Grocer for comment, and Freeths declined to comment.
New Anglia Local Enterprise Partnership, which loaned OneFarm £2.5m as part of the collaboration between private investors and Suffolk County Council, said it was "aware of the situation" and was "monitoring it closely" but could provide no further comment.
The project also raised £3.8m from more than 2,000 investors on the Abundance crowdfunding platform in October last year. Abundance also did not respond to a request for comment.
OneFarm joins a long list of companies in the still-burgeoning sector that have come under financial strain. Over the last year, several have ceased operating, reduced headcounts or filed for bankruptcy.
Rising energy costs and a tightening funding market are frequently cited as chief causes of the struggles, but others in the sector blame poor business models and strategy.
OneFarm revealed its plans – to be delivered in partnership with infrastructure supplier and indoor agritech specialist IGS – for the vertical farm in Newmarket in May last year. The farm was expected to be capable of growing up to 415 tonnes of food a year in its initial phase, scaling up to more than 1,000 tonnes as part of a proposed expansion.
The farm was expected to be fully operational in early 2023 as the first of OneFarm's hubs across the UK and was be retrofitted into an existing disused warehouse site.
The company – which filed losses of almost £2m in the year ended 31 August 2022, according to unaudited accounts at Companies House – also claimed to have supply agreements in place with retailers.
Despite the company giving the LEP and local council a "first glimpse" of its nine-metre-high growing towers, where it planned to grow a range of vegetable, herbs and greens, in February, The Grocer understands the site was still not operational.
OneFarm had also revealed ambitions to operate up to 25 indoor vertical farms in the UK in hopes of significantly reducing food waste and creating a more sustainable method of growing crops that require no pesticides or herbicides.
A spokesman for IGS said: "As an infrastructure supplier to OneFarm we can confirm we work with and have been supporting their operation and our concern now is for the well-being of the staff at Newmarket."