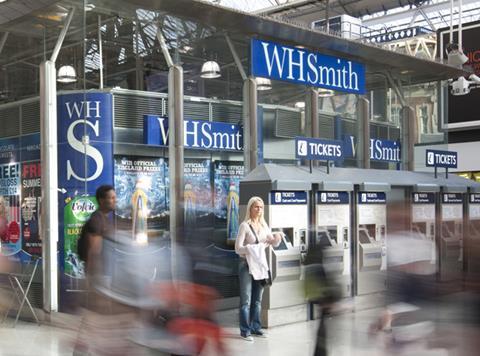 Travel and high street retailer WH Smith has announced it intends to cut up to 1,500 roles as a result of a sales slump caused by the coronavirus outbreak.
The group has begun consultations on a restructure that "could lead to up to 1,500 roles becoming redundant" to reflect the impact on passenger numbers and lower footfall on the UK high street.
"This has been a very difficult decision and we are committed to supporting all our colleagues throughout this process and ensuring it is conducted fairly," the group stated.
WH Smith said the costs associated with the restructure will be in the region of £15m-£19m.
The restructure comes after the coronavirus outbreak and international lockdowns had a devastating impact on its revenues in recent months.
Group revenues slumped 83% in April and 82% in May, before marginal recoveries to a 69% year-on-year fall in June and a 57% drop in July.
While its high street division was down by 25% in July, the slump in global air and rail passenger numbers has seen its previously growing travel operations lose 73% of its sales year-on-year in July.
Although passenger numbers remain significantly down year on year, WH Smith said it has begun a phased reopening of its UK stores across air and rail channels. It is now trading in 246 of its largest stores, which have historically represented 75% of annual revenue and currently has 53% of its total UK travel store estate open.
In the US, where approximately 85% of passengers are domestic, it anticipates a faster recovery versus the rest of the world.
Its 203 high street stores that host Post Offices remained open through the pandemic and since June it has reopened the remaining high street estate stores with 575 now open, though footfall remains significantly down on 2019 levels.
Following the impact of Covid-19 in the second half of the financial year, WH Smith expects to deliver a headline loss before tax for the year ending 31 August 2020 of between £70m and £75m.
"Covid-19 continues to have a significant impact on the WH Smith Group," said CEO Carl Cowling. "Throughout the pandemic, we have responded quickly and taken decisive actions to protect the business including substantially strengthening our financial position.
"In our travel business, while we are beginning to see early signs of recovery in some of our markets, the speed of recovery continues to be slow. At the same time, while there has been some progress in our high street business, it does continue to be adversely affected by low levels of footfall.
"As a result, we now need to take further action to reduce costs across our businesses. I regret this will have an impact on a significant number of colleagues whose roles will be affected by these necessary actions, and we will do everything we can to support them at this challenging time.
"While we are mindful of the continuing uncertainties that exist, we are a resilient and versatile business. The operational actions we are taking along with the financing arrangements that are in place, put us in a strong position to navigate this time of uncertainty and we are well positioned to benefit in due course from the recovery of our key markets."
WH Smith said it remains confident it has sufficient funds to allow it to operate throughout a prolonged downturn in its markets.
As of 4 August, it has cash of approximately £63m with a revolving credit facility of £200m and an additional committed bank facility of £120m, both of which are undrawn. In addition, it has secured eligibility for the government's Covid Corporate Financing Facility.
In July, its monthly cash burn on an underlying trading basis was between £15m and £20m.