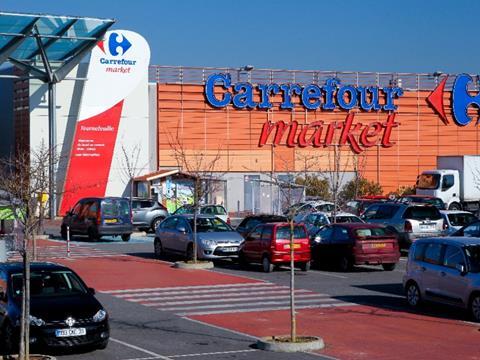 French retail giant Carrefour has posted full-year organic sales growth of 3.9%, boosted by strong growth it Latin America.
The world's second largest retailer recorded sales of €84bn (£64.1bn) last year, helped by 4.1% revenue growth (to €22.6bn) in the fourth quarter.
Carrefour saw growth in both its home French market and its international operations. In France organic growth was 1.2%, with all formats posting a sales increase. Organic revenues at hypermarkets edged up 0.1% in its home country, while supermarkets and convenience grew at 1.2% and 6.6% respectively.
Its international growth was 5.9% as sales stabilised in Europe grew strongly in Argentina and Brazil. Latin America revenues were up 18.1% on an organic basis, with Brazilian sales up 11.9%.

Sales fell by 0.3% in other European countries on an organic basis, but this was the first time in six years that European sales were broadly stable. Full-year Asian sales slipped by 5.3% on weakness in China.
In Q4 2014, Carrefour opened or acquired 354 stores, mainly convenience stores (230). Net of disposals or closures, the network added 252 stores in Q4 2014, bringing the total network to 10,860 stores at the end of December (+755 stores compared to 2013).
Gildas Aitamer, Retail Analyst at Planet Retail, commented: "Carrefour has managed to find opportunities in a depressed European economic environment. This has seen successive acquisitions in Greece and Italy, the merger of its Bulgarian operations with a local player and its masterstroke: the return of Dia France.
"Dia France is in the doldrums and a quick and smooth integration into the portfolio will be paramount to avoid further pressure on the retailer's bottom line."