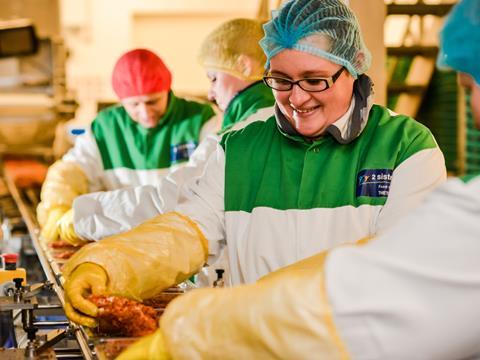 2 Sisters has announced a £150m investment in its poultry business to "revolutionise" its supply chain as it seeks to return to growth after a year of restructuring.
Releasing its full-year results this morning, 2 Sisters said total sales were 8.2% down in the 52 weeks to 1 August to £3.14bn from £3.42bn in 2014.
Like-for-like sales for the year were 1.7% down to £3.2bn, while operating profit plunged 34.3% to £58.8m from £89.5m.
Operating profit margin was down to 1.9% from 2.6% (with like for like operating margin down from 3% to 1.9%), but its statutory loss fell to £4.7m from £143.3m last year.
Ranjit Singh, 2 Sisters Food Group CEO, said: "Our aim is to build a better business. During 2015 we focussed on costs, efficiency, investment, innovation and deepening customer relationships… We are making a number of important investments with the aim of providing our customers and consumers with innovative products, better value and reduced waste."
Announcing the £150m poultry investment this morning, Singh said it would "completely revolutionise our supply chain end-to-end". He added: "We are aiming to further align our poultry business with the needs of our customers, creating world class facilities utilising state of the art technology, and driving efficiency."
Like-for-like sales in its protein division for the year were down 3.2% to £2.2bn. Fourth quarter protein like for like revenues were 6% down from the same period last year as sales were hit by the effects of deflation, the Avian Influenza outbreaks and "negative consumer sentiment" following FSA campylobacter reporting.
Its share of the poultry market grew by 4% in the fourth quarter versus the third quarter.
Overall fourth quarter sales were down 13.5% to £757.8m, while like-for-like sales slipped 3% to £773.6m. Fourth quarter like-for-like operating profits were 20.3% down to £22.8m, while like for like operating margin slipped to 2.9% from 3.6%.
Singh said: "The operating environment for our industry remains tough, but we have seen a consistent improvement in our performance across all our divisions, with a 17.5% increase in life-for-like operating profit to £22.8m from Q3 to Q4.
"Our business transformation continues at pace and with a number of investment programmes in place, I am confident we have the right strategy to meet the needs of our major customers who increasingly demand long-term, dedicated partnerships with their suppliers."
2 Sisters expects the sector to "remain difficult" due to "continued food price deflation, and a highly competitive grocery market". However, it said its investments across its protein, chilled and branded divisions will "improve" its performance.
Its chilled business grew full year like for like sales by 1.9% to £596.5m – with Q4 up 3.2% – after "good contract wins" during the year. 2 Sisters recently announced a £55m investment in the division to give it sufficient capacity to support future growth in the segment.
Branded sales saw like for like growth of 1.9% to £391.8m (and Q4 up 8.4%). Frozen saw growth across the UK and Ireland, but biscuits "has been under pressure… due to intense competition"
Overall net debt increased to £716.6m, including cash balances of £118.7m, having stood at £664.6m (with cash balances of £168.3m) last year. Its net debt/adjusted EBITDA ratio increase to 4.26x from 3.58x.
2 Sisters also announced two new non-executive directors will join its board. Susan Murray, former chairman of Farrow and Ball and current chair of Compass Group's CSR committee, and Ros Rivaz, currently non-executive director of can maker Rexam, will both sit of 2 Sisters' audit and remuneration committees.
2 Sisters became the largest food and drink player in the UK in 2014, according to the 2015 OC&C Top 150 Index published in September. The report showed the poultry giant overtook Associated British Foods last year to claim top spot for the first time in the table, based on annual revenues.