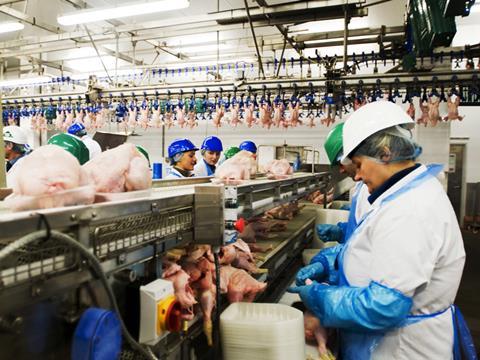 2 Sisters owner Boparan Holdings' pre-tax losses jumped by 206% to £53.8m in the fourth quarter, as the size of the turnaround required at the poultry giant was revealed.
Bosses say that a new management team is accelerating turnaround efforts, as it continues to divest non-core parts of the company portfolio.
The suppliers' cash position has been strengthened through the disposals of its red meat division to Kepak, its Goodfella's Pizza arm to Nomad Foods, and the recently announced sale of its Manton Wood sandwich business to Samworth Brothers.
The meat giant reduced its net debt to £193.4m in July 2018, from £601.8m in the same month the previous year, as it continues to place greater focus on its core poultry business.
Like-for-like sales for the 13 weeks ended 28 July 2018 increased 1.5% to £694m, compared to 2017, as it battled a "difficult macro-economic backdrop", it said.
Despite the sales increase, Boparan's like-for-like operating profits sank 57.8% to £4.9m, before a significant loss on the disposal of its red meat business and non-cash exceptionals, totalling £60m, took it deep into the red.
2 Sisters hired Ronald Kers as its chief executive in June, before three of his former Muller colleagues joined him as directors in October.
The company's chilled business has been buoyed after securing a major new customer, added Kers.
"Our Q4 results reflect the difficult macro-economic backdrop and the challenges we have faced in our own business," added Kers. "Against this backdrop we have a clear strategic plan which we are executing at pace to improve business performance.
"We remain focused on addressing our core UK and European poultry operations and providing the right environment for our Chilled and Branded businesses to flourish.
"By focusing on our core with a new team, we are laying strong foundations for a more consistently performing and profitable future.
"I expect to see the margin improvements associated with the turnaround programme from our third quarter onwards."