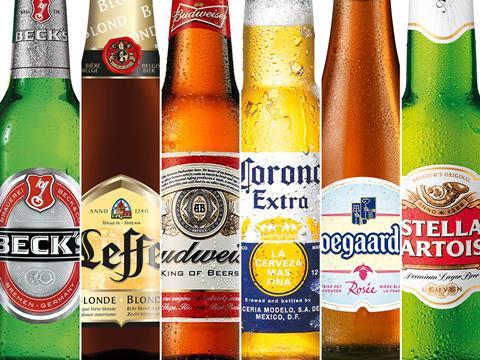 AB InBev (ABI) investors were nursing sore heads on Thursday morning after the globe's largest brewer lost about 10% of its value after a weaker-than-expected third quarter and a savage dividend cut.

The Belgian brewing giant's shares had tumbled 9.8% to €65.21 by Thursday lunchtime following its third quarter trading update, hitting a multi-year low of €64.31 in the process.
The drop came after AB InBev announced it would slash its full-year dividend by 50% to €1.80 per share in order to conserve cash to pay down the hefty debt pile accrued following its £79bn merger with SABMiller.
The enlarged group's net debt has swollen to US$108.8bn following the 2016 deal, with management keen to make progress back to a ratio of net debt to two times EBITDA.
The cut to the notably generous dividend cut was not entirely unexpected, particularly as ratings agency Moody's had recently put the group's debt rating on review for a possible downgrade earlier this month. However, the depth of the cut combined with weaker than expected underlying performance across the business spooked the markets.
Third-quarter core like-for-like EBITDA rose 7.5% to $5.4bn, comfortably below market expectations, while its solid underlying sales growth of 4.5% in the quarter to $13.3bn marked a sequential slowdown and again missed expectations.

"In every region, both volumes and sales missed expectations," noted analysts at Liberum, noting that the bright spots of China, Mexico, western Europe and many African markets were undone by weakness in the key market of Brazil as well as Argentina and South Africa.
RBC said the dividend cut was "not a great surprise", but a "significant and widespread shortfall against expectations" was "not AB InBev's finest hour".

AB InBev shares are now down 32.4% year-on-year, at their lowest level for more than five years.

Meanwhile, fellow brewer Heineken (HEIN) had a better time of things as it posted 4.6% third-quarter organic sales growth driven by warm summer weather in Europe and the continued strong ­performance of its Heineken brand lager.

The warm weather helped the lager brand to 9.2% growth, with sales particularly strong in France, Russia, Brazil and South Africa. However, the group saw a slowdown across Africa and Asia, in part due to tough comparables, and flat US sales. Global net profits for the first three quarters of 2018 are up to €1.61bn, from €1.48bn in 2017.
"Management has maintained full year guidance and given brand Heineken's strong performance, topline organic growth should comfortably be above 5%," said analysts at Societe Generale.
Heineken shares have slumped by almost 10% over the past year, driven by its July profit warning. The shares dropped 0.6% to €77.96 on Wednesday, but were back to €78.30 by Thursday lunchtime.