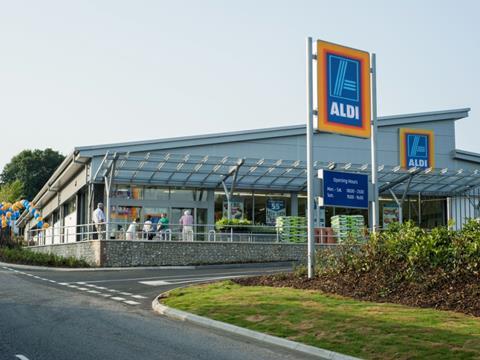 Pre-tax profits at Aldi soared 65.2%, the discounter revealed today, as it claimed to offer "the best value in UK grocery retail".
Aldi UK & Ireland earned £260.9m in pre-tax profits for the year ending 31 December 2013, on group turnover up 35.7% to £5.3bn.
Aldi's average basket size rose to 16.9 items, putting it second only to Asda (18.8 items) in the UK, it said. Its average basket typically cost £6-£7 less than at Asda or Tesco, it added.
"We keep prices constantly low while keeping product quality consistently high, which is exactly what shoppers want," said Roman Heini, joint group MD of Aldi UK.
"We work efficiently and responsibly to reduce operational costs. Rather than use these savings to boost margins, we lower prices at the checkout. Shoppers appreciate this and know that, while they're paying less at Aldi, they're getting much more for their money."
Aldi said it had attracted one million more customers in August 2014 than in the same period the year before, and said that despite "a round of aggressive supermarket price cuts and the large supermarkets actively targeting Aldi", it had grown market share. Aldi had a record share of 4.8% in the 12 weeks to 14 September 2014, according to Kantar Worldpanel.
"We have actually seen stronger growth in the first half of 2014 than in the first six months of last year," added Matthew Barnes, joint group MD of Aldi UK. "The price cuts have encouraged consumers to think more about what supermarkets charge and have really shown that our everyday low prices can't be beaten."
The discounter is on course to open 54 new stores in the UK, with another 60-65 in the pipeline for 2015, taking its total estate to over 600.
In June, Aldi revealed plans to have 1,000 UK stores by 2021. It is funding a £70m expansion of its UK headquarters in Atherstone, Warwickshire to support this growth, and is looking to recruit 700 deputy store managers across the UK, on a starting salary of £8.95 an hour.
Citing Aldi's first place in a recent customer satisfaction poll by Which? magazine, Heini rejected the suggestion shopping at Aldi was "no-frills shopping". "No-frills suggests that shoppers have to make a compromise and that they are less satisfied with their shopping. As the Which? survey shows, this is not the case at Aldi. People can get what they want and need in our stores, and they are delighted by our overall offer."
'Era of value'
"It is no great surprise to see that Aldi have posted record profits this year," said Prof Lloyd Harris of Warwick Business School. "Their record profits reflect the ongoing drive towards value in retailing. If we look at food retailing in the 1990s and the first part of the 2000s, the focus was on generating customer satisfaction and the 'big four' trying to out-compete each other for market share. However, if we can categorise the last six or seven years in retailing as anything, it is the era of value."
The Grocer has an exclusive interview with Aldi UK's joint MDs later this week.