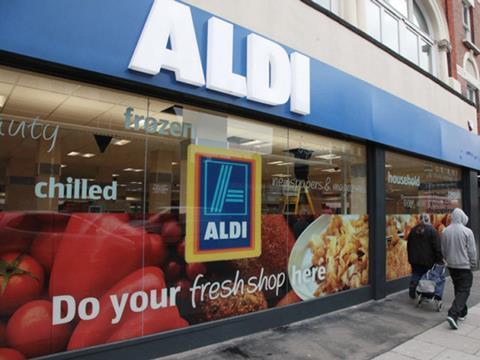 The extraordinary growth reported by Aldi this morning illustrates the depth of the problem facing the UK's established supermarkets.
Aldi announced today that pre-tax profits for 2013 soared by 65.2%, while group turnover was up 35.7% to £5.3bn, leading to a margin of 5.1%.
At a time of collapsing sales and tightening margins amongst the listed supermarkets, the difference in performance is stark and only becoming more startling.
All three of the listed supermarkets have responded this year with some measure of price action – but price is only one piece of the puzzle. The discounters' explosive growth is not just based on being cheaper, it is based on having a clear value proposition that customers understand. Value means more than purely price (Aldi, for example, repeatedly stresses product quality in today's earnings release) – and that value balance is what Tesco and Morrisons in particular have in the recent past so clearly failed to achieve.
Group MD of Aldi UK, Roman Heini, said today: "[Shoppers] had become used to thinking you have to pay more for better products. We've shown them this doesn't have to be the case.
"We work efficiently and responsibly to reduce operational costs. Rather than use these savings to boost margins, we lower prices at the checkout. Shoppers appreciate this and know that, while they're paying less at Aldi, they're getting much more for their money."
Getting "more for their money" doesn't necessarily mean charging the lowest prices in the industry as the principle can just as easily be applied to the upmarket retailers. Waitrose and Marks & Spencer are comfortable with their price premium (although Waitrose's brand matching has hurt profits) because their customers believe the quality premium represents value. That's why Kantar had Waitrose's sales up 4.5% in the three months to 14 September, despite the march of the discounters.
Similarly Asda (Kantar 12-week sales up 0.8%) has had a consistent and compelling customer proposition based on being the cheapest supermarket that offers wide assortment of products and brands.
That value proposition from the other mults has been somewhat muddled and only recently have they begun to take the discounter threat seriously. All three have cut prices, but the nature and scale of their businesses can't beat the discounters on price – only cut the gap.
Sainsbury's is probably closest to having a focussed USP. Sainsbury's concentration on in-store standards and own-label quality has so far helped insulate its main estate from the discounter threat, while at the same time building its own discount network under the Netto brand. But in recent months Sainsbury's sales have started falling too and, more concerning, it seems to be losing customers to both cheaper alternatives and more premium rivals.
There is unlikely to be a shift from Sainsbury's in its core proposition, but the recent action on prices seems to be an admission that its price differential to Asda (and, by extension, Morrisons) has become too wide.
Morrisons has already made its move to get closer to Asda and it would be a major surprise if Dave Lewis didn't commit Tesco more fully to the price war over the coming months. But Tesco in particular needs to do more than just become slightly less expensive than Asda – how Lewis goes about rebuilding that value proposition and connection with the customer will be the key factor in the success of the supermarket's recovery.
It is these fundamental USP questions that Tesco and Morrisons have previously been reluctant to tackle, but the growth of Aldi and Lidl means these tough issues can no longer be avoided.
Shore Capital recently accused the supermarkets of "sleeping at the wheel" when it comes to the discounters. However, it notes that Aldi and Lidl's "free lunch" in fresh food categories may finally be over now the supermarkets have been spurred into action.
Aldi said today it saw "stronger growth in the first half of 2014 than in the first six months of last year", but there are signs that growth may finally have started slowing a fraction. Bernstein noted that the most recent Kantar data had Aldi growing at 29.1% - its slowest growth since June 2013 – while Lidl's growth of 18.7% was its slowest in seven months
However, with Aldi planning to almost double its UK store numbers to 1,000 by 2021, it doesn't need huge like-for-like growth to continue its rapid market share gains. The supermarkets allowed a huge gap to develop between themselves and the formerly very basic discount outlets – leaving Aldi and Lidl an open goal to grow into the UK market.
The challenges facing the listed supermarkets are far wider than just the discounters – but their growth is the clearest manifestation of a marketplace shifting underneath the traditional players' feet. The big four still have a sheer scale in the UK to mount a fightback but coming up with the right strategy on which to base that battle could require some of the most significant reinvention in their long histories.