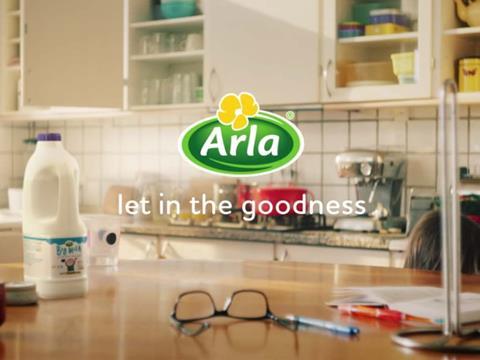 Arla Foods UK business slumped from a £2.6m profit in 2013 to a £76.9m loss in 2014, as it faced up to a "major structural change" for the company and dairy industry.

The dairy co-op's annual report for the year to 31 December 2014 revealed a £66.3m loss in pre-exceptional items for 2014, explained in part by an increase in cost of sales from £2.1bn in 2013 to £2.8bn, and a fall in gross profits from £327.5m to £180.1m.
However, exceptional items, which stood at £21.5m in 2013 due to extensive restructuring of the business following its merger with Milk Link, fell to £6.3m for 2014, while turnover rose from £2.4bn to almost £3bn.

Sales for key brand Lurpak rose from £295.5m to £300m, while Anchor also experienced a jump in sales, from £122m to £138.1m. However, Arla's Cravendale milk brand experienced a fall in sales from £159m to £146m during the same period, as the turbulent market for liquid milk took its toll.

The company said 2014 had been "very challenging" as "significant volatility in the global market" saw record high prices for dairy commodities fall last spring as supply started to outstrip demand.

Director Anders Haegg described the start of 2014 as a "watershed" for Arla in the UK as the 1,349 dairy farmers who had previously supplied the co-op with milk joined former Milk Link producers in becoming full owners of the business.

The 2015 financial year would continue to be challenging for the whole UK dairy sector, he said, however "significant cost-saving initiatives" and driving increased volumes and branded growth through the launch of the Arla masterbrand this year meant Arla was set fair for good progress and strong branded and own-label growth, he said.

The wider Arla Foods group saw global revenues drop from €5.3bn (£3.9 billion) to €5.1bn (£3.8bn) for the first half of 2015. However improved volumes led to revenue growth of 2.4% across its three global brands Arla, Lurpak and Castello.