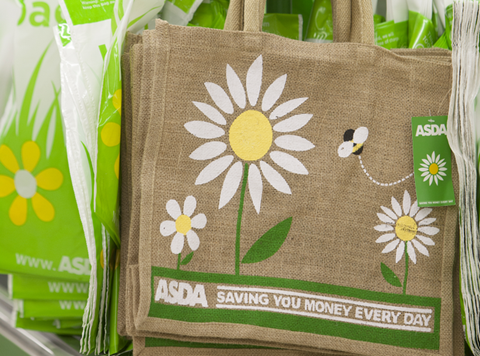 Asda's like-for-like sales grew 0.5% in quarter one with an adjustment for 2019's late Easter, but sales fell 1.1% without that adjustment, according to a trading update this morning.
Asda CEO Roger Burnley said the growth figures for the period 1 January to 31 March, which exclude petrol, showed the business remained focused, while also warning of challenges ahead.
Online grocery sales rose 10% in the period while George.com saw double-digit growth.
Owner Walmart's CEO Doug McMillon expressed disappointment with the CMA's decision to block Asda's merger with Sainsbury's, while Walmart CFO Brett Biggs reiterated the potential of a stock market listing of the UK supermarket.
"In the UK, we are disappointed that the proposed merger of Asda with Sainsbury's isn't happening because it would've been good for customers and the businesses," said McMillon. "Asda continues to focus on delivering against our strategy and has built momentum in the business, which is impressive."
Burnley said: "Throughout the quarter we have maintained our focus and momentum, against an increasingly challenging backdrop and we remain entirely focussed on delivering our strategy, without the benefits the proposed merger with Sainsbury's would have delivered," he said.
"Our strategy remains as it always has been – winning on price for customers, whilst delivering a consistent customer experience and investing in driving growth where customers care. Throughout the quarter we have continued to grow our online food and George businesses, as well as remove 6500 tonnes of plastic from our operations. We continue to consult with our colleagues on proposals to increase their base rate of pay, whilst ensuring we have the right people in the right place at the right time for customers.
"But what has got us here, won't get us where we need to go – with the rate of change accelerating, we have a tough job to do and need to go even faster, and be even more innovative in the solutions we deliver for our customers. We cannot be complacent, but I believe that we have the right plan and some amazing colleagues to deliver in this highly competitive market – and I'd like to thank them all for all their hard work."
Biggs said: "Moving to International, while seven of 10 markets had positive comps in the quarter, we're managing through political and economic headwinds in several of our International markets, which contributed to a bit weaker results this quarter than we've had recently. In addition, as Doug mentioned, we were disappointed in the CMA's decision in the U.K. We're focused on continuing to execute the strategy to strengthen Asda's long-term success, including the potential of an IPO at some point in the future. We'll be thoughtful and measured in our approach. We remain focused and confident in our International strategy of building strong local businesses powered by Walmart.
"The Easter calendar shift negatively affected several of our markets, including Asda where comps declined 1.1%, but would have been positive without the Easter flip.
"Against a challenging backdrop in the U.K., Asda comp sales declined with the Easter flip, but transactions were positive as customer experience continued to improve. The Asda team is making progress on key strategic priorities. For example, price competitiveness improved this quarter and private brand penetration grew. In addition, online grocery sales were strong with a 10% increase. It's a competitive market, but Asda is making steady progress in its positioning."