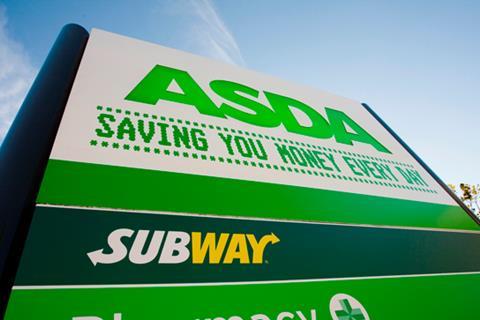 Asda saw sales increase by 5.1% in Q4 and 6.9% in the eight weeks until 24 December, the supermarket announced today, in what looks set to be its last set of results under the majority ownership of Walmart.
CEO Roger Burnley said "strong growth" in online, which saw Asda increase groceries home shopping by 90% compared to the start of lockdown, had been the standout factor in a Christmas "like no other".
The figures, covering the period from 1 October to 31 December, come with the billionaire Issa brothers poised to take control of the retailer after their £6.8m deal completed on Tuesday, pending approval from the competition authorities.
"Our focus on keeping prices low, providing great quality products and keeping customers safe when they visit our stores were key to delivering a strong performance across the quarter and particularly during the busy Christmas period," said Burnley.
"The festive season was like no other and I am proud of the way Asda colleagues responded to the exceptional circumstances they faced. It was only right that we recognised their hard work by closing our stores on Boxing Day so the vast majority of them could spend more time with their family during this period."
Burnley said demand for premium Extra Special lines had increased "significantly" over the period, particularly in the meat, fish and poultry categories, with sales in December up by 30% year-on-year.
Combined net sales for Asda.com and George.com increased by 76% year-on-year.
The results come two days after the billionaire Issa brothers completed their acquisition of Asda, with Walmart announcing the £6.8bn deal had met all its conditions.
The owners of the forecourt EG Group, together with investment fund company TDR Capital announced they had acquired a deal to obtain a majority ownership stake in Asda in October, with the US giant retaining a minority stake.
The deal received approval from the Financial Conduct Authority earlier this month although is still dependent on receiving the go ahead from an ongoing probe by the Competition and Markets Authority (CMA), which launched in December.
The CMA has set a 20 April deadline for a preliminary decision on the deal.