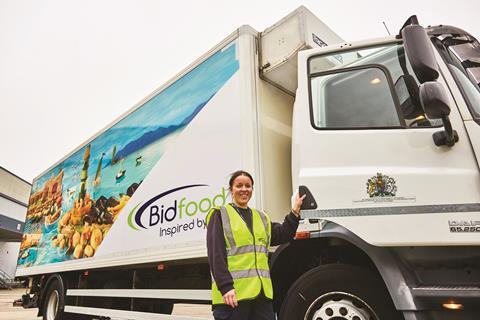 Bidfood parent company BFS Group has bounced back into the black in its latest financial year, positioning the foodservice wholesaler in a stronger position ahead of the coronavirus outbreak.
Revenues in the year to 30 June 2019 remained broadly flat at £2.5bn, with £1.5bn generated by Bidfood and £1bn coming from the lossmaking Best Food Logistics business, which was sold to Tesco's Booker wholesaling arm for a nominal sum during the period.
Operating profits before exceptional items more than doubled at the group to £72.2m, compared with £26.9m in 2017/18 financial year, as losses of £37.7m in Best Food were cut to just £4.1m and profits grew in Bidfood from £64.6m to £76.3m.
After exceptional items, the group moved back into the black from a pre-tax loss of £9.1m to profits of £29.4m. Pre-tax profits in Bidfood increased from £28.9m to £55.1m, with Best Food making a £25.6m loss as a result of one-off exceptional costs of £19.8m related to the write-off of goodwill tied to an historic sale of assets back in 2004.
Bidfood CEO Andrew Selley said the newly filed accounts were not reflective of the impact of the coronavirus crisis over the past four months. "We are, however, incredibly pleased with the great efforts of our team to produce the healthy numbers stated in our 2019 financial report and despite a challenging few months, nothing has changed in our approach, with service excellence still very much at the heart of our business," he added.
Bidfood has been hit hard by the current crisis as the hospitality industry closed overnight when the UK went into lockdown. The business suffered a downturn in trading in the past four months, with the pandemic and subsequent lockdown expected to have a "material effect" on the 2020 results, BFS said in the 2018/19 accounts.
Bidfood replaced some of the lost volumes thanks to a major government contract to provide support packs of essential groceries to vulnerable people on the shielding list. The group also tried to control costs using the government furlough scheme.
Selley said the impact was expected to be temporary as the industry recovers and pubs and restaurants reopen, followed by schools in September. However, hundreds of jobs in the company are at risk as result of a restructuring programme to protect its cash reserves and preserve the core business.
"Bidfood has had to adapt in a number of ways to mitigate challenges presented by Covid-19," he added. "From transforming our business model to offer a B2C home delivery and click & collect service, to delivering millions of shield packs as part of the government shielding programme, to understanding what the new normal will be for our customers and how we can ensure we have everything they need to confidently return back to business.
"We're focusing heavily on cleanliness and hygiene for our customers, on safety measures for welcoming back their customers, support with reduced menus, advice on finance and solutions to help with reduced staff and skill level."
Selley said it was "a marathon and not a sprint" and added the group was pleased to see the hospitality industry slowly coming to life again.
BFS Group paid an interim dividend of £30.5m to shareholders, compared with £21.2m in year before.