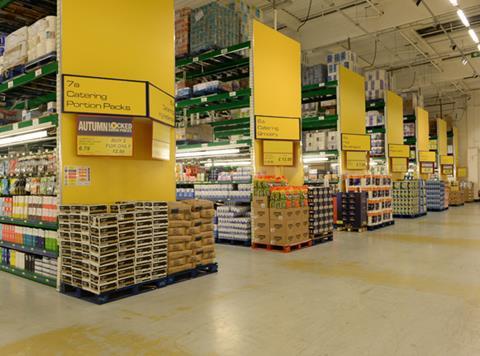 Booker this morning posted another strong set of results.
Updating the City on its Q2 and half-year performance, the UK's biggest wholesaler said total sales increased 1.9% in the half-year to 12 September.
Like-for-likes rose 2.4%, excluding Makro, with non-tobacco sales up 3.4% and tobacco like-for-likes up 0.6%.
It also reiterated that the ongoing integration of Makro into its business was "on track with cash and profits in line with expectations". Makro's non tobacco like-for-likes were down 10.8% in the 12 weeks and by 11.4% in the half as Booker continues to deliberately exit unprofitable categories, such as bulky electronics that were so prevalent in Makro depots before.
Analysts were cheered by the news, with shares hitting 122.7p today.
But new research from Him! suggests there are a number of key opportunities in the wholesale sector for Booker to tap.
Its latest wholesale research on more than 4,000 independent retailers at nine top cash & carry and delivered wholesalers found indies are spending more time in C&Cs – an average of 59 minutes a visit. However, when they visit, two-thirds bring a shopping list and 88% of their spend comes from that list.
That suggests wholesalers like Booker need to focus on increasing that 12% impulse spend. The potential is there – the Him! research found only 22% of retailers claimed they had a budget to stick to when they visit a C&C, and half of retailers said they would be 'open to influence'.
To sell more, wholesalers need to either get more products onto their customers shopping lists, or entice them to spend more when looking round the depot, Him! says.
The challenge is that indies are time-pressed people, and for them, on a trip to a cash & carry they want to get in, get their goods and get out as quickly as possible. Wholesale is also coming under increasing pressure from lower prices in the supermarkets and the discounters, with many retailers choosing to take advantage of those deals rather than visit their local C&C.
Wholesalers are trying every trick in the book to get customers into their depots and to spend more once there. But it's not just up to wholesalers. Suppliers need to support the sector too, offering promotions and initiatives that really will 'influence' retailers in-depot.