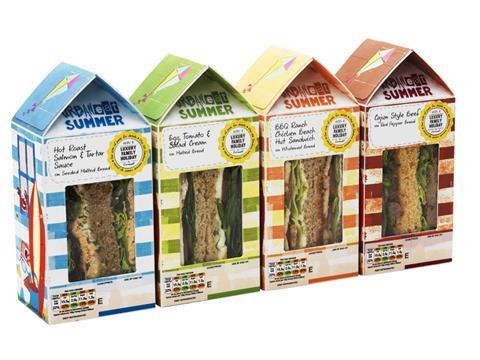 The booming food-to-go sector has helped drive annual revenues up 14.9% at HIG Capital-owned sandwich specialist Adelie Food Group.

Group turnover reached £294.7m in the year to 31 March 2015, which includes just days of trading under HIG after it bought Adelie from India Hospitality Corporation in early March. Operating profit leapt 37% to £15m, while pre-tax profit rose 39% to £14.4m.

Adelie said the growth was driven the UK's growing chilled food-to-go market, which increased in volume by 5.3% last year, with sandwiches growing by 3.7% year-on-year
Its own Urban Eat brand saw sandwich sales grow by a 41% year-on-year, taking its estimated retail sales value beyond £100m and "firmly establishing it as the UK's number one sandwich brand".
Adelie has also signed up a number of new trade customers including Kerryfresh, WH Smith and First Great Western
Gavin Cox, CEO Adelie Foods, said: "The business has and will continue to perform strongly; we are incredibly excited about the dynamic chilled food to go category growth opportunities. Working with HIG will enable the business to invest in further growth over the next 5 years."Profitability was helped by a reduction in the cost of exceptional items, falling from £5.5m (including £4.6m related to restructuring and redundancies) in its 2013/14 financial year to £4.4m last year.
As an example of this investment, he pointed to the opening this month of its new 100,000 sq.ft. distribution centre at Prologis Park near Heathrow. He said the facility "gives us vital additional capacity to support our continued growth in volume and provides us with the opportunity to further develop our third party distribution network".
Writing in the accounts, Cox said the board remained confident of sustained growth despite "very competitive" market conditions. "We remain confident we are well placed to maintain the current level of organic growth in our chosen markets, both leveraging our own Urban Eat brand as well as through the development of our customers' own brands," he said.

"The group will continue its focus on excellence in category management and innovation to deliver growth ahead of the general market… Adelie will continue to drive the most compelling and ambitious offer and lead the food-to-go market".

The group is planning a number of Urban Eat product launches over the next six months and investment to increase brand awareness.

Cox also suggested the backing of HIG Capital could see growth "supplemented through strategic investments where appropriate".

HIG has previously stated it plans to use its network across Europe to support Adelie's expansion to the Continent. All group revenues last year were attributable to the UK.

Revenues are up by almost 25% from the turnover achieved in the 2012/13 financial year and pre-tax profit has increased by more than six times from the £2.3m achieved two years ago.