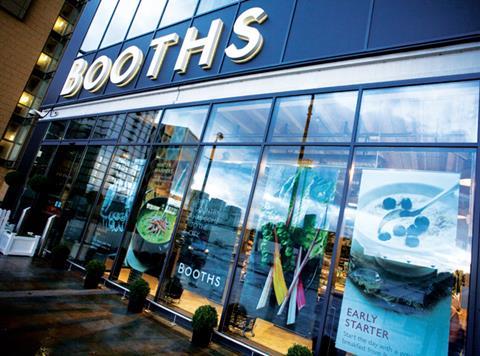 Booths has seen a sales boost over the past six months, driven by a summer of staycationers and strong sales of core grocery lines.
The family-owned supermarket chain had a "strong performance" at its seven stores around the Lake District thanks to a summer of staycationing in the area that continued into September, while core groceries such as tinned and packaged goods saw a "buoyant performance".
Its chief operating officer Nigel Murray told The Grocer much of this increase was driven by the continued reduction of out-of-home food consumption in the wake of the coronavirus pandemic. Food to go sales have also "significantly dropped" as customers spend more time at home, while alcohol sales have "done incredibly well".
However, Murray explained the growth had come hand-in-hand with the "substantial" cost of implementing its coronavirus safety measures.
He was speaking this week after the high-end retailer posted its financial results for the year ended 28 March 2020.
Sales were up 3.3% in the period to £267.8m, while underlying sales when adjusted for both the coronavirus pandemic and comparable Easter periods went up by just 0.2%.
The retailer's pre-tax loss, meanwhile, reduced by £1.3m to £4.1m, which it said was in line with expectations.
Booths said it recorded a 70% increase to £5.8m for its business to business ventures including its deliveries partnership with Amazon. Its Christmas sales meanwhiile grew by 3.5% in the three weeks to 5 January 2020.
Edwin Booth, CEO and chairman of Booths, said it had made "immense progress against a fragile economic backdrop" and the challenges of the year. "The business has coped magnificently and worked tirelessly to create safe shopping environments for both colleagues and customers," he said.
"I am enormously proud of how our teams have been able to adapt and thrive in challenging conditions. Distancing and safety routines have made many tasks more difficult, and the attitude with which colleagues have carried out their daily tasks has been heartwarming."
Booths has taken several steps to retain customers since the coronavirus outbreak began, including introducing an emergency grocery delivery service for vulnerable shoppers from March to August, before relaunching it in October following rising demand. It also partnered with Deliveroo in June to give 400,000 households across Lancashire and Greater Manchester access to over 300 essential lines for home delivery in as little as 30 minutes.