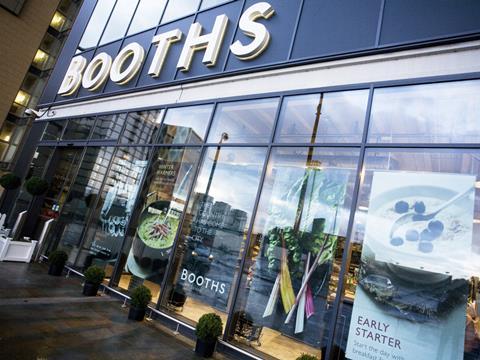 Northern supermarket Booths saw sales fall 0.7% in the last year, despite opening four new stores, as Storm Desmond took its toll on the retailer last winter.

Two Booths stores were forced to close because of catastrophic flooding caused by Desmond, with its top performing Keswick store shut for six months.

The impact of Keswick's temporary demise represented a 1.4% depression of overall sales, Booths said. The retailer projected that it would have recorded a modest increase in sales of 0.7% without the devastating effects of the flooding in the crucial Christmas trading period.

Continued food deflation also dragged down sales while underlying trading profits dropped from £3.1m to £2.6m due to the turbulent market and costs associated with opening four new stores during the year.

The decline in bottom line profitability was driven by one-off items including £1.6m of restructuring costs, £1.4m of refinancing costs and a £6.7m non-cash impairment charge.

"It remains a very challenging retail market, but as ever, when the going gets tough, Booths gets tougher," said CEO Chris Dee.

"Booths has been a resilient business for 170 years, and remains very much so today."

Dee praised colleagues for their resilience in a challenging year.

"Our teams have coped admirably in a year of enormous operational change. We've closed stores, opened modern new stores, restructured our management teams, and the business came together to rise to the challenges of delivering Christmas 2015 in the face of some of the worst flooding on record."

The retailer said it was feeling confident about its Christmas 2016 sales, which were already looking good.

Booths' Great Northern Christmas Book, cataloguing its Christmas fare, was showing early signs of success with a 30% rise in Christmas pre-orders year on year.

As reported by The Grocer, Booths wants to double sales of its own-label products over the next five years.