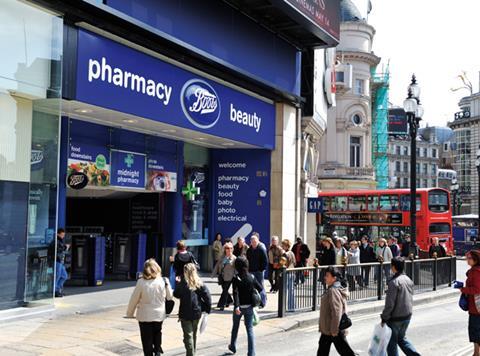 Boots has increased UK high street sales in the second quarter thanks to a strong performance for its Christmas ranges and No7 brand.
Retail sales in the three months to 29 February for the international division, which includes Boots UK, of parent group Walgreens Boots Alliance (WBA) rose 2.1% compared with last year, according to the earnings update. Like-for-like UK figures were up 1.8%, the group added.
The group said it reflected growth in Boots.com with strong performances for the click and collect service, as well as the seasonal categories and Boots product brands, including No7 and Soap & Glory.
Good growth in the UK also drove a 2.6% sales increase in pharmacy sales for the division compared with the same quarter a year ago.
Second quarter sales for the whole retail pharmacy international division, which includes the UK, Thailand, Norway, the Republic of Ireland, the Netherlands, Chile and Mexico, amounted to $3.7bn, a 2.3% rise.
In February Boots announced it wanted to cut between 300 and 350 management roles in the UK as the high street chain continued to simplify its business. The move follows the 700 job cuts Boots made in the UK in June last year as part of a cull of backroom staff to focus resources on digital to turn the business into a "true omni-channel retailer".
Executive vice chairman and CEO Stefano Pessina said he was pleased with how the company was positioning itself for success in rapidly changing markets.
"In addition, we continued to make good progress in the quarter in reducing costs and establishing more efficient working practices, which contributed to overall adjusted earnings growth," he added.
"Looking ahead, we remain on track to achieve our expectations for this fiscal year, as we work to mitigate lower pharmacy reimbursement rates and challenging retail sales environments."
Earnings at Walgreens Boots Alliance increased 14.4% to $1.4bn in the period, with net sales up 13.6% to $30.2bn, largely the result of the full consolidation of Alliance Boots.