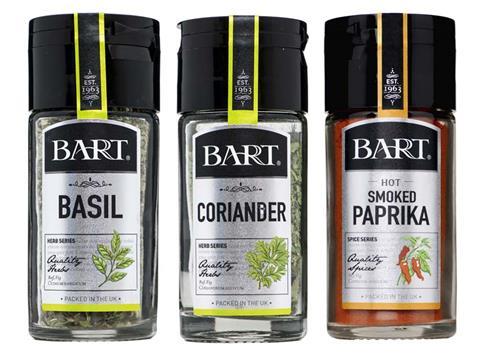 Losses have widened at herb and spices brand Bart Ingredients despite another year of double-digit sales growth - with Brexit-driven cost inflation yet to take effect.

Revenues climbed 22% to £22.6m in the year to 31 March 2016, compared with a 28% jump in the previous 12 months, thanks to distribution growth for the Bart brand in Waitrose, Sainsbury's and Asda, as well as its own-label offering.

Underlying profits more than doubled to £483k but pre-tax losses increased slightly from £476k to £551k after restructuring costs of almost £400k. Bart was dragged into the red in 2014/15 as a result of the acquisition of loss-making wet herbs and spices business OTP Foods. The integration of OTP had been completed and its performance had "significantly improved", the accounts said.

Sales and marketing director Patrick Pace added the cost of supplying herbs and spices was swelling in the wake of Brexit-driven currency movements as Bart imported almost all its products from 62 countries across the world. "The currency drop is so big we will have to pass some of it on as we are just not large enough to absorb it all." "We're currently working with our suppliers to understand the size of the issue we will face into before we can enter discussions with the retailers.

"The increases may be beyond us to absorb but we will still do our best to become even more efficient to help mitigate cost inflation."

Bart, founded in 1963 and owned by private equity firm Langholm Capital since 2010, has its biggest listings with Waitrose and Ocado, which each stock hundreds of different products.