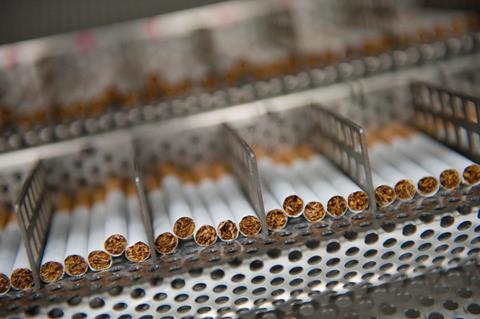 British American Tobacco said it is overcoming currency headwinds to be on track to deliver a "good year of earnings" in its third quarter update this morning.
Year to date revenues grew by 4.2% at constant rates of exchange in the first nine months of its financial year, though revenues are down 6.5% at current rates of exchange due to the strength of the dollar and pound.
Cigarette volume from subsidiaries decreased by 1.8% to 487 billion during the period, but its key "Global Drive Brands" volume grew by 7.2%.
Volume was up in the third quarter by 0.4%, while year to date market share is up by 40bps, notably in South Korea, Russia, Australia, Pakistan, France and the UK.
BAT said its organic revenue growth was driven by continued strong pricing, partially offset by negative geographic mix, growth in the low price segment in some key markets and a difficult pricing environment in Australia.
Chief executive Nicandro Durante commented: "The group continues to perform very well, with a strong third quarter.
"Our excellent market share growth was driven by the exceptional performance of our Global Drive Brands whilst the increase in revenue, at constant rates of exchange, was due to strong pricing in the majority of our markets.
"There will be increased marketing investment and geographic expansion of next generation products in Q4, however I remain confident that we are on track to deliver another year of good earnings growth at constant rates of exchange."
BAT added that global trading environment "remains challenging" due to the slower than expected recovery in the global economy, continued pressure on consumer disposable income worldwide and significant currency headwinds.
If exchange rates stay the same for the remainder of the year the group will have an adverse currency effect of 6% on a transactional basis and 12% translational.
Industry volume decline was in line with prior year, despite the continued impact of excise driven price increases in high volume markets.