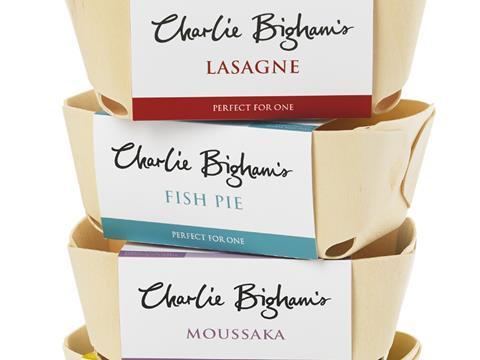 Posh ready meal supplier Charlie Bigham's has accelerated its rapid growth with sales racing 28% higher to £37.8m as consumer demand for premium products showed no sign of slowing.
Pre-tax profits at Bighams Ltd, the registered name of the wider group, were also up 62.5% to £2.6m in the year ended 31 August 2015, according to newly filed accounts.
The business, which sells its meals for two in the likes of Waitrose, Sainsbury's, Ocado, Booths and Budgens for about £7, attributed the rise in the bottom line to "very significant" improvements in efficiency and better buying.
CEO Tom Allchurch said in the strategic report in the accounts that the sales growth in 2014/15 was "satisfactory" given the difficult trading conditions in the supermarket industry.
"The fastest growing areas were sales of Charlie Bighams brands," he added. "We have lot of opportunities to grow with existing and new customers, across all ranges.
"While the market remains fiercely competitive, we were able to hold prices for most customers, and to maintain gross profit levels thanks to very significant improvements in efficiency, and effective buying.
"We have continued to simplify our business and therefore spread our overheads more efficiently."
Founder Charlie Bigham started the company in 1996 and has grown revenues from £14.7m in 2009 to the present total. The group now employs more than 300 staff who prepare about 16,000 meals a day in the Charlie Bigham's London kitchen.
Bigham said: "Growth continues to come from both strong like-for-like sales growth and new distribution, working closely with our retail partners. We have continued to grow well since August and very much hope this trend continues as we invest in making our food taste even more delicious and get the word out to more people who haven't tried our food before.
"Like many people we have some concerns re the uncertainty following the Brexit vote but we are hopeful that this will not have an impact on people's appetite for good food."
In October, Charlie Bigham's revealed it was planning to double its production capacity and open a new production kitchen after outgrowing its current London-based space. The food manufacturer said at the time that it had experienced year-on-year growth of 47% in its retail sales to £40m.
Best known for its upmarket fish pies and lasagne, as well as curries, the company is also doubling its marketing budget for television advertising in 2016, following its TV debut last year. Bighams said the adverts had in part contributed to a more than 35% boost to volumes on its flagship fish pies.