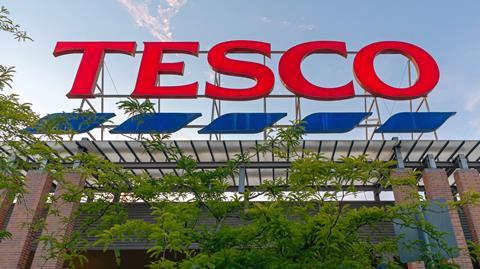 Tesco shares rose sharply this week as the UK's largest supermarket hiked its full-year forecasts, on the back of a jump in sales and profits in the first half.
Group sales excluding fuel rose 8.9% to £30.7bn in the 26 weeks to 26 August, as Tesco hailed "stronger than anticipated" volumes during the period. CEO Ken Murphy said the supermarket had won shoppers from other food retailers as it continued to sharpen its offer.
Total revenues including fuel rose 5% to £34.1bn, with petrol sales falling 20.5% as a result of lower year-on-year prices. Retail like-for-like sales were up 7.8% overall and by 8.7% in the UK. Meanwhile, the Booker wholesale operation grew revenues 6.9% to £4.7bn in the half – a 7.5% like-for-like rise.
Sales growth helped adjusted operating profits rise 13.9% to £1.5bn, also boosted by a further £290m of cost savings through its 'Save to Invest' programme. Pre-tax profits were up more than 200% to £1.2bn thanks to a one-off non-cash charge of £626m suppressing its bottom line a year ago.
The first-half outperformance prompted Tesco to raise its guidance for the full year. It now expects between £2.6bn and £2.7bn in retail adjusted operating profits (not including Tesco Bank) – up from the previously forecast £2.5bn.
In the wake of the guidance, Tesco shares gained 4.3% on Wednesday to 270.7p and another 3.8% on Thursday morning to 280.9p.
AJ Bell commented: "Tesco is reaping the benefits of becoming a more competitive and well-run business… The grocery sector is cutthroat and Tesco is managing to stay ahead of the pack by being able to offer low prices on core products, while also being very clever with its loyalty scheme."
Shore Capital noted: "Tesco is a very well-oiled machine, pressing all the right buttons around price, assortment, promotion availability and general service standards. That consistent execution is being noticed by shoppers and supports robust market share performances."
Bernstein suggested Tesco could outperform even the upgraded guidance. "There's a healthy dose of management conservatism baked into the upgraded guidance – we think it will take a material slowdown in top line growth and year on year margin deterioration in the UK & ROI segment to miss the guidance," it said.
Tesco shares are now up almost 40% year on year and are trading just shy of their highest levels since February 2022.